Valley View Costa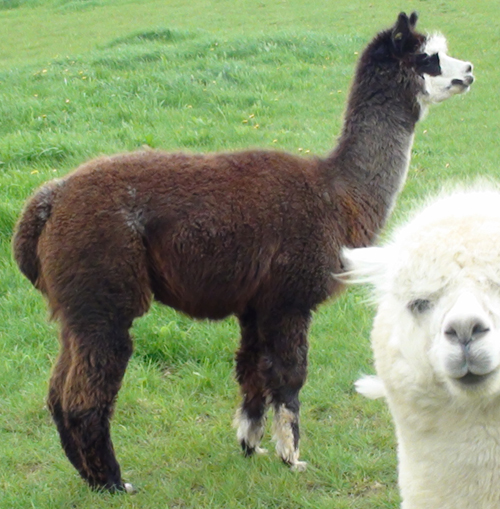 Costa being photobombed by Trident
Costa's colour is described as 'rose grey' on his registration. Grey is caused by a gene that acts on dark-coloured alpacas to do two things: firstly it produces the white 'skull' pattern on the face and down the legs (which, to be honest, is weird and not terribly attractive) and secondly it changes the colours of the fleece elsewhere on the body. Costa's fleece appears to be mostly black, but it contains varying amounts of silver hairs and rust-coloured areas, making it really fun to work with and a really beautiful but practical colour in finished items! Costa is a middle-aged alpaca with a pretty typical middle-aged fleece that is coarser than that on a young animal, making it hardwearing and ideal for items such as jackets and pullovers. Costa is one of our stud alpacas and we hope in time to have some descendants of him in similar colours but improved fleeces.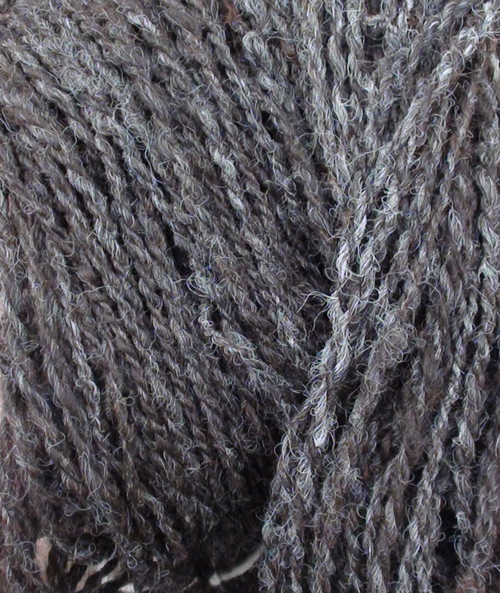 Handspun Costa
1st Fleece
AFD 17.8
µ
m
SD 4.4
µ
m
CV 24.7%
5th Fleece
AFD 30.3
µ
m
SD 7.1
µ
m
CF 58.5%
CV 23.3%
Yield 2.7 kg
Valley View Costa


grey

29/4/2013
Valley View Mochachino

rose grey
Perfect Pink Floyd of Arunvale (imp Peru)
rose grey
?
?
?
?
?
?
ARU Cambridge Tatachilla

black
Shafts' Dream of Arunvale (imp Peru)
?
?
Nero of Cambridge (imp Chile)
?
?
Valley View Lottie

mid fawn
Cherwell Leys Angelo

light fawn
Arunvale Cloud
Dougie
Arunvale Sunflowers Maria
Atlantic Bashful
Iquique of Atlantic (imp Chile)
AA120 of Atlantic (imp Chile)
Atlantic Ballyhoo

dark fawn
Peldosa of Atlantic (imp Chile)
?
?
AA122 of Atlantic (imp Chile)
?
?