Please see my
etsy shop
for leads currently available, or get in touch if you would like something specific!
Turquoise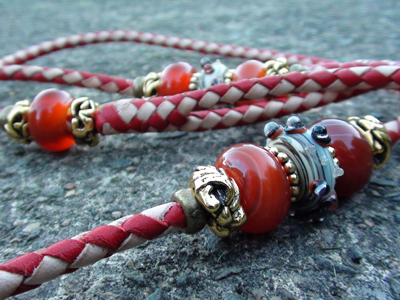 Carnelian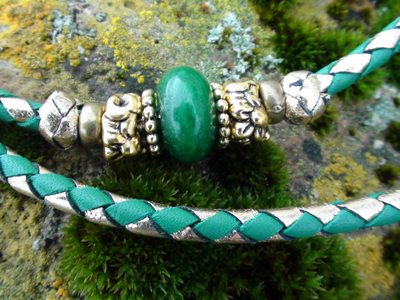 Jade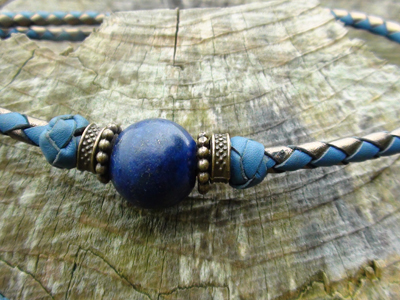 Lapis Lazuli

I make braided kangaroo leather leads with semiprecious stone beads. I just enjoy semiprecious stones because I think they're beautiful, but the stones have their own mythology and some people like to think that they bring good fortune or have mystical powers. And I guess the power of psychology means that if someone truly believes that carnelian will bring them courage, they probably will feel more courageous!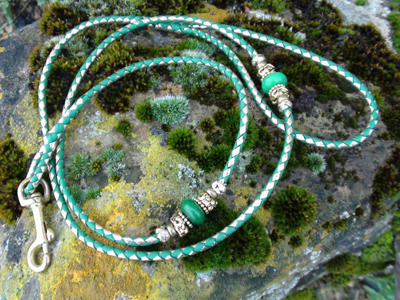 Jade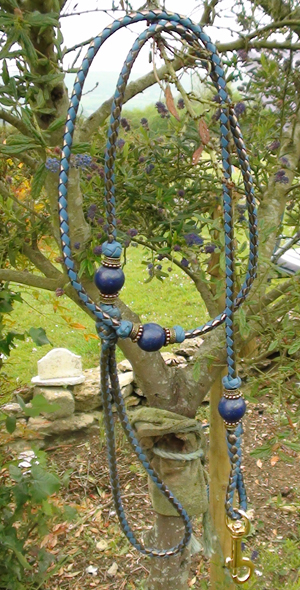 Lapis Lazuli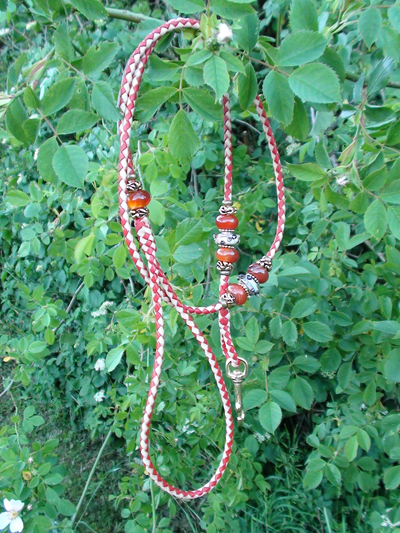 Carnelian

Wild kangaroos are hunted in Australia to prevent overpopulation. Kangaroo leather is remarkable because it retains its strength even when made into very thin strips, which makes it ideal for making fine leather leads. I make my kangaroo leads by braiding 4 strands of 1/8" Australian vegetable-tanned kangaroo lace (imported from a bloke in Brisbane, who cuts the lace from the hides himself) around a 65 kg breaking strain Dacron cord securely attached to a high-quality English brass trigger hook. Before I do this, I bevel the edges of the leather and apply a leather conditioner made from natural plant-derived oils to ensure the best tension possible. When the lead is finished, it is stretched and rolled to smooth it out. Please be aware that not all 'roo leads' are created equal. Some inexpensive leads available have been made with some of these steps omitted, and the edges of the braiding can be prominent as a result, making the lead lumpy and unpleasant to use. A kangaroo lead should feel like a beautiful sleek snake in your hand, not like a pangolin with eczema.




The difference! Same materials and same technique, but with and without proper preparation.



The leads with beads and knots are also adjustable by sliding the knots to change the position of the beads. Some other leads are made with the knots woven into the fabric of the lead and are not adjustable, and can't be repaired of the knots get damaged.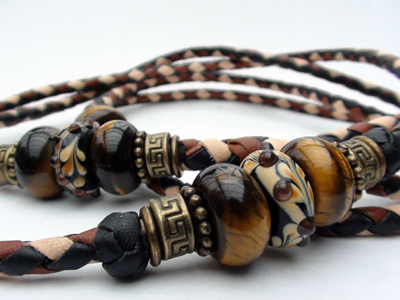 Tigerseye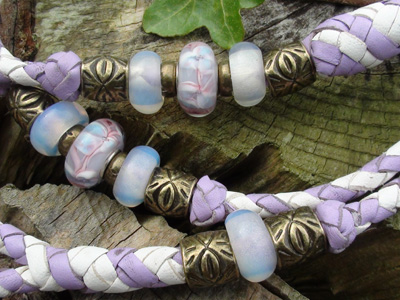 Orchid and Opalite



Please note these leads are designed to be used as show leads. Please have a look at the chevron and twill leads if you are looking for a quality, quirky, everyday leather lead.

Available by themselves to match with your own choice of collar, or choose a high-quality matching English brass snake chain.



Jasper

Please contact me for current available colours and options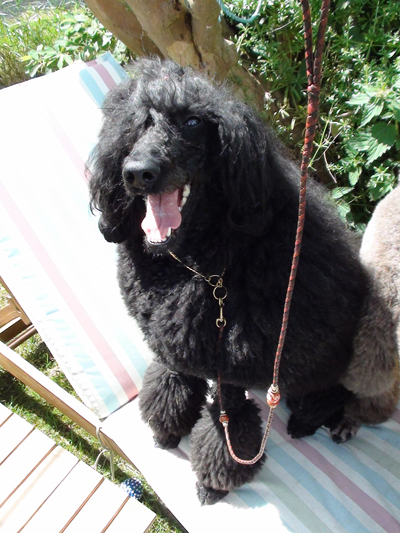 Adhara modelling a Jasper lead