3/4" wide soft collar for puppies from 8 weeks. Fits neck circumference approx. 8-13" and easily adjustable while the puppy grows. Features a welded stainless steel English-made D ring and colourful quick-release buckle. Quick-release buckles are designed to fail under excessive strain and considered the safest choice if your dog needs to wear a collar and has to be left unattended or there is a risk of the dog becoming caught on something by the collar. (Please note that it is always best to remove the collar if possible when it is not needed, and that a properly fitted collar will keep your dog safe and under control, and is least likely to get caught).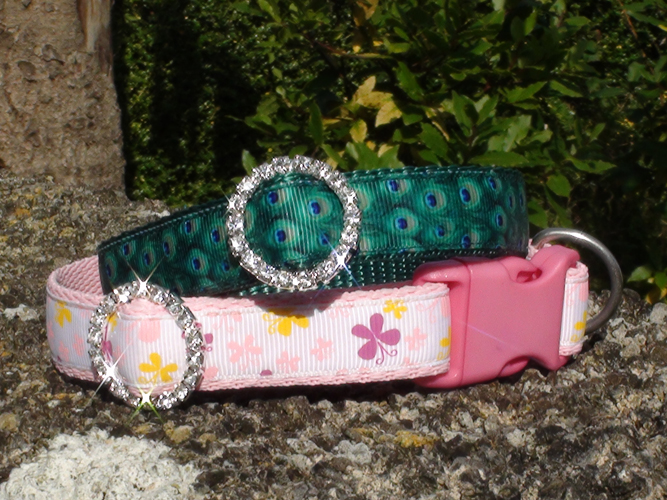 Handmade with an old treadle-operated Singer sewing machine I restored. Can be made with either a rhinestone or plain adjuster. Custom sizes available; please ask.
Can be easily washed if it becomes dirty. If washing in a machine, please use a low temperature setting and be sure to remove all tags, and place the collar inside a pillowcase or similar to protect the machine.
Please have a look at my leather collars with brass fittings if a more secure buckle is important.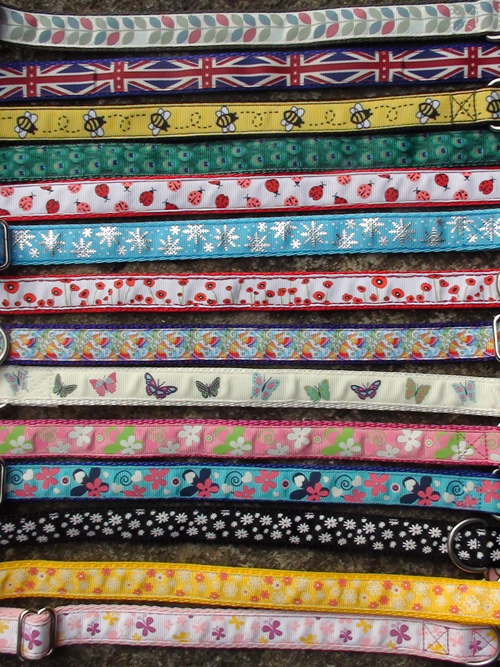 Colours:
Olive Branch, Union Flag, Bees, Peacock, Ladybirds, Snowstorm, Poppies, Seahorse Pride, White Butterflies, Pink Funky Flowers, Blue Funky Flowers, Black Flowers, Yellow Flowers, Pink Butterflies