Jorgei Only Hobsons Choice
30/07/2013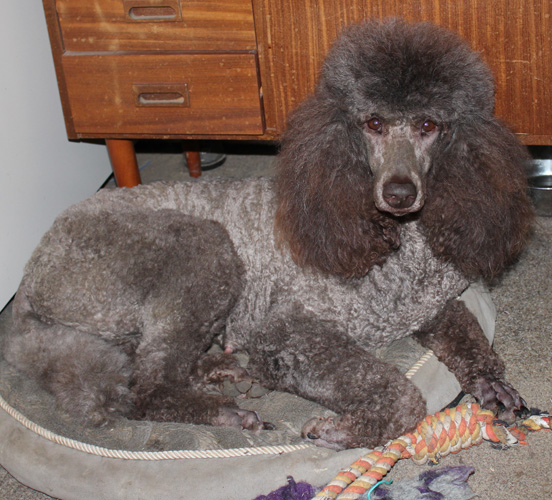 Hobsey aged 6 1/2
Hobsey is a pretty brown bitch about 23 1/2 inches tall who is lively and energetic, and loves toys and playing with people. She likes to play all day and then cuddle on the sofa when the day is done. She is the first poodle I have had so far who has a genuine love of water for its own sake, and will readily swim to retrieve toys. She is a beautifully solid, compact girl with dark eyes, lovely carriage, and a dense, harsh, tightly-curled coat.
Hobsey playing with Adhara, both age 3
Hobson has had four litters of puppies and is the mother of Trilby and Tiffin, and is now retired from breeding and will stay here for the rest of her life. Hobsey took to motherhood really well and loves pups whether they're her own or someone else's.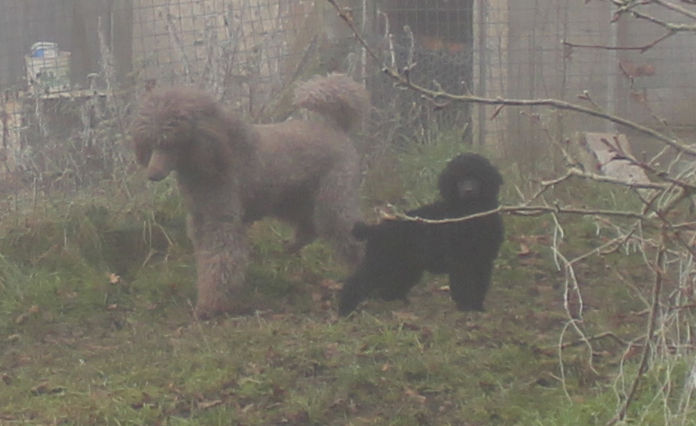 Hobsey in a freezing January mist with daughter Tiffin from her 4th and final litter, lockdown 2021.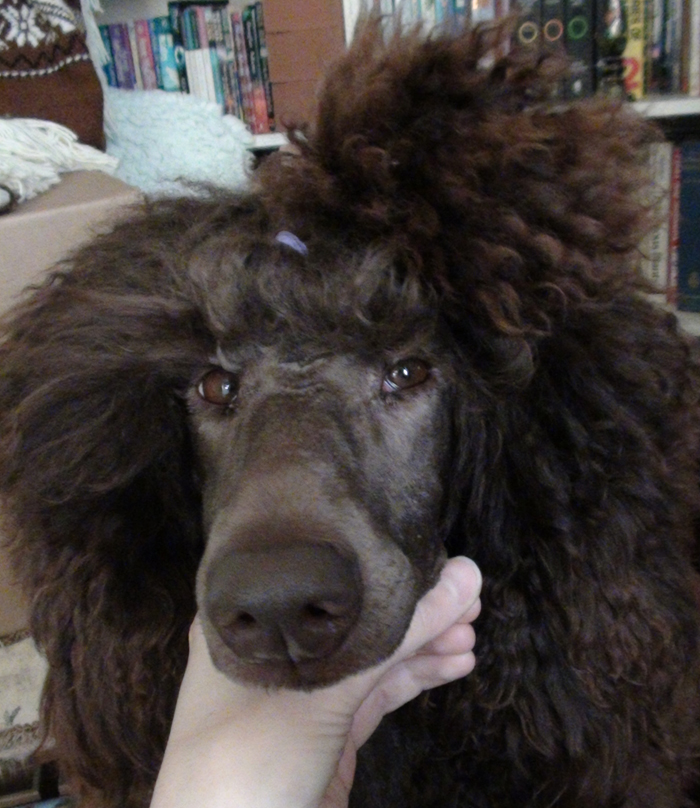 Although Hobsey shows great enthusiasm for learning new things and interacting with new equipment, unfortunately she doesn't travel very well, so I've never been able to take up a discipline properly with her. She joined us as an older puppy, and while she was well socialised to people and other dogs, she had not been socialised to travelling in a vehicle, and it seemed that the critical period had passed. Although she seems to quite enjoy getting into the vehicle to go out, she salivates so much that everything including her and anyone else in with her gets drenched, and sometimes vomits still. She has a beautiful coat, which naturally gets completely spoilt if she has to go anywhere! Hobsey enjoys retrieving toys and playing on the agility equipment at home. She has achieved her KCGC Bronze award at a local show.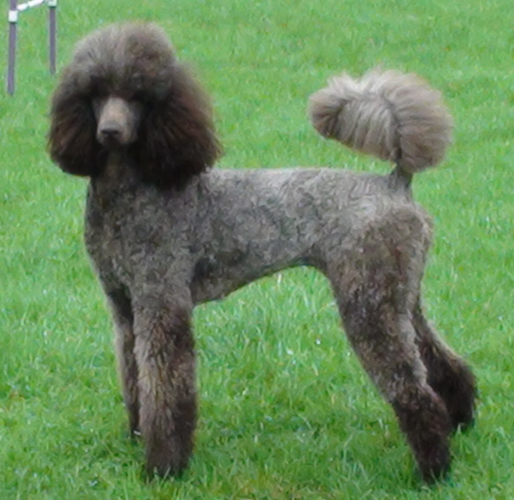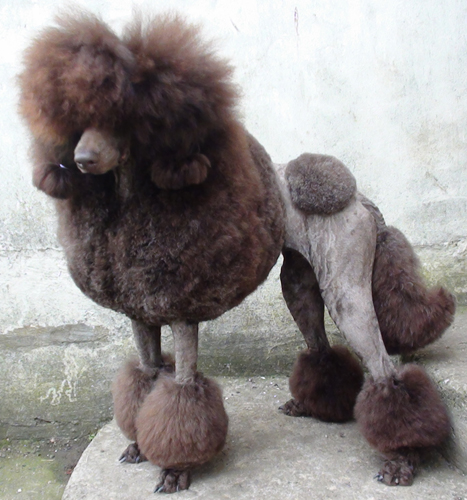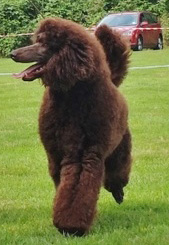 | | |
| --- | --- |
| COI (15 generation SPD) | 10% |
| COI (KC Website) | 4.8% |
| % Wycliffe | 27% |
| % OEA | 15% |
Health testing results
| | | |
| --- | --- | --- |
| Test | Date | Result |
| BVA Eye Test (hereditary cataracts) | August 2020 | Not Affected |
| Genetic Test: von Willebrand's Disease | 2015 | CLEAR |
| Genetic Test: Degenerative Myelopathy | 2015 | CLEAR |
| Genetic Test: Neonatal Encephalopathy | 2014 | CLEAR |
| Genetic Test: RCD4 PRA | 2020 | CLEAR |
| ANKC hip score* | August 2014 | 7+11=18 |
| Biopsy:sebaceous adenitis | April 2015 | Not Affected |
*
I had Hobson x-rayed and the radiograph is shown at the bottom of this page. Despite specifically asking for Hobsey to be positioned properly for BVA scoring, and using a vet who had been widely recommended, I was not happy with the positioning at all, and asked for it to be redone, but the vet insisted it was correct and refused to redo it. Rather than going elsewhere and putting Hobsey through irradiation and the risks of sedation/anaesthesia all over again, I told the vet to send the poorly-positioned image to be scored. Several months later, with no result and after much effort chasing this up and being fobbed off with excuses, the vet finally admitted the radiograph had been rejected by the BVA because the positioning was so poor it was not fit to be scored. I have never received a refund, an offer to redo the x-ray, or even an apology from the person responsible for this. Hobsey was checked for an Ortolani sign (a physical non-radiographic method of detecting abnormally loose hips) while under sedation and no Ortolani sign was present in either hip. I have shown it to two other vets with experience of x-raying hips for the BVA scheme and they agree that even though the positioning is bad and it would likely look better positioned properly, it is still possible to tell from it there is no serious problem with Hobsey's hips (such as severe subluxation or osteoarthritis). Since this happened, I have started using Penn Hip scoring instead of BVA scoring, as it is more accurate and less dependent on positioning, and vets in the scheme are obliged if they position a dog incorrectly for the scheme to repeat it for no charge.
In 2021 I heard from a number of other breeders that they were sending radiographs to the Australian ANKC scoring scheme as the BVA scheme had broken down due to the pandemic with a delay of several months, because this service had a simple online submission process and used the same system as BVA. Out of interest I submitted Hobsey's original radiograph which the BVA had rejected six years previous. This was scored 7 on the right and 11 on the left (with the left leg being the one that appears to be affected worst by the poor positioning pulled across her body and pushed upward against the joint being marked up for subluxation and Norberg angle). I am grateful to the ANKC for providing this service and a scored result that would seem to support that, taking into account the poor positioning, Hobsey's hips are probably slightly worse than the median for the breed, but there is no problem with them.
Hobsey as of the age of 7 at retirement remains in rude health and has never shown any sign of a problem with her hips. Two of Hobsey's offspring, her full brother Angus, and two cousins have had their hips evaluated using Pennhip or BVA scoring all with scores close to or better than the breed median. Hobsey's mother Twiggy was never scored, but remained sound and active with no joint pain throughout her life.
Hobson's temperament profile
(
What's this?
)
| | |
| --- | --- |
| Food motivation | HIGH |
| Toy motivation | HIGH |
| Mouth quality | LOW |
| Prey drive | HIGH |
| Attitude to owner/family | HIGH |
| Attitude to people | MODERATE |
| Attitude to dogs | MODERATE |
| Attitude to playing | HIGH |
| Proprioception | MODERATE |
| Sensitivity to Correction | LOW |
| Affinity for water | HIGH |
| Gunsteady | YES |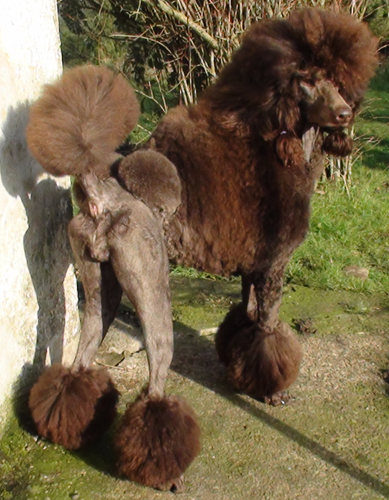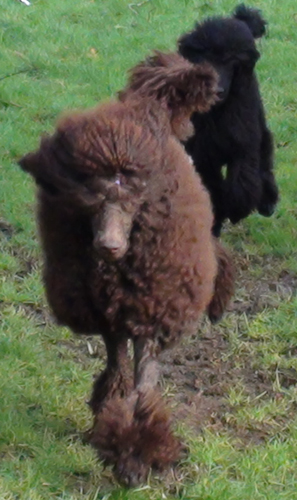 Achievements
Kennel Club Good Citizen Bronze award, May 2015
Jorgei Only Hobsons Choice

brown

30/7/13

Jorgei Just Justin



brown
Montravia Street Rumour

black
Huffish on Every Street
Kaylen's Reason to Believe
Kaylen's Cadillac Style
Kaylen's Imagine That
Huffish I'm Every Woman
Torpaz It'll Be All White
Huffish Honkey Tonk Woman
Montravia Toffee Gun
Montravia Tomahawk
Cygni Nighthawk
Montravia Guns'n Gossip
Montravia Chasing the Gun
Montravia Guns Ahoy
Montravia Guns'n Garters
Canen Abfab

brown
Kenmilltri Peter
Henderson Robinson Brown
Tippitoes Best Man
Canen Live Wire
Newhay Lady
Midnight Maestro
Zarzosa Blackberry Silk
Canen Spellcheck
Menawethan Making Magic
Montravia Distant Gun
Canen Love Goes Round
Canen Meadow Brown
Canen Shy Boy
Canen Seventh Avenue


brown
Canen Danse Macabre

black
Conireed Fruity Boy
Conireed Golden Sherd
Sovereign Special Envoy of Jacrane
Angel's Gold at Conireed
Conireed Ginger Nut
Sovereign Special Envoy of Jacrane
Foxy Lady of Conireed
Canen Night Tango
Canen Twist and Shout
Middlewalks Kiss'n Cuddle
Canen Late Night Extra
Tango in the Night
Montravia Don Fernando
Canen Heavens Above
Canen Last Dance

brown
Canen Twist and Shout
Middlewalks Kiss'n Cuddle
Warwells Quest for Peace
Shandy of Middlewalk
Canen Late Night Extra
Late Edition of Canen
Canen Heaven Can Wait
Canen Meadow Brown
Canen Shy Boy
Canen Good Heavens
Canen Late Night Extra
Canen Seventh Avenue
Canen Road to Glory
Canen Oh Oh Seven
Show Results
Chippenham & District 2014
Puppy Bitch: 1st place
Critique from judge Lynda Lewis:
This young lady was a real handful. Just under a year old, moved really well once she settled. Lovely head and expression, good reach of neck with well laid shoulders. Should have a bright future.
Paignton Championship Show 2014
Junior Bitch: 2nd place
Critique from judge Miss D Spavin:
Feminine head, alert expression, good head carriage, clean outline, nice bone, moderate quarters.