Indi's seven lovely puppies were born on the 11th February! All Indi's pups have now gone to loving owners, except for Saffi who is staying with us.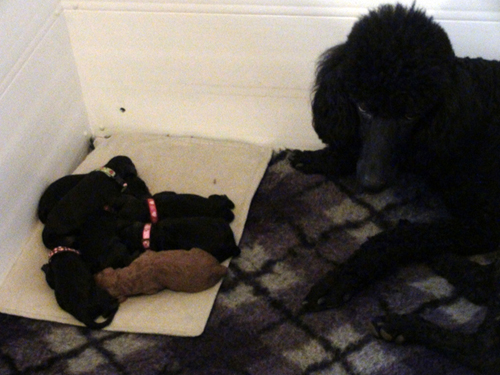 Three black girls, three black boys, and an apricot boy.

Indi Aran
X
CLAVIDD CRUSADE FOR INDIGO ARAN DE LA BONNE ANNEE AT SOMANIC



Click to download a 7-generation pedigree in PDF format
Click on Indi's name above to see her page with her health tests and information on it
Click on Aran's name above to see the website of his owner, Marlene Carter (Somanic)

COI 5-generation (KC website): 0%
COI 10-generation (SPD): 2.9%
COI 15-generation (SPD): 4.8%
Wycliffe contribution: 21%
OEA contribution: 28%

SPD calculation output (pdf)

Indi is a friendly and gentle poodle. She is well-angulated with a good front assembly and beautiful feet, and a raven-black coat with crisp curly texture. I would prefer Indi to have more confidence, focus, and motivation in training. She is also longer than ideal in the loin and her carriage could be better, and could do with more refinement in her head. I have chosen Slovakian stud dog Aran to complement Indi because he is an outgoing, confident boy who is toy motivated. He brings to the table square proportion and proud carriage, and a refined head with definition and expression. Aran's pedigree traces back to old apricot bloodlines. Pups are likely to come in a choice of either black or some sort of apricot/cream shade. Indi is 22 1/2" tall and Aran is about 23", so puppies should mature to be a similar sort of size.

If you are interested in joining our waiting list, we have provided a questionnaire that you can download from the main Puppies page that will help you start thinking about how to prepare for your new companion and help us match you with a suitable puppy. Please see Wywylwynd Guarantee under Information for details about what is included with pups.