Saffi has 8 pups born on April the 19th. The pups have all gone home to their nice new families. If you are interested in joining the waiting list for a future litter or would like to know anything else about my poodles, please get in touch.
Saffi Otto
X
WYWYLWYND SAFFRON AJDAR zu FEENHOF von WYWYLWYND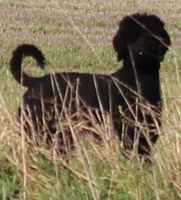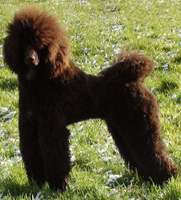 Click to download a 7-generation pedigree in PDF format
Click on Otto's or Saffi's names above to see their pages with health tests and information.

COI 5-generation (KC website): 0%
COI 15-generation (SPD): 3.6%
Wycliffe contribution: 27%
OEA contribution: 15%

SPD calculation output (pdf)


Pandemic Socialisation Plan
Because of the current situation with the pandemic and the restrictions that have developed after February when Saffi mated, we have made contingency plans for puppy socialisation to ensure the pups receive necessary contact with a variety of people while complying with government guidelines and minimising risk to everyone.
People on the waiting list have visited prior to Saffi's mating taking place and met the parent dogs and seen how pups are raised. Normally future owners are invited to come and visit at 4 and 6 weeks old before collecting their pup at 8 weeks. The house is in lockdown anyway with no visitors when pups are small to allow the bitch to focus on them, so nothing will change at this point. When the pups are 4 weeks old, it will be May, so we are hopeful that some progress will be made and restrictions will be relaxed to allow everyone at least one visit to meet the pups. If this does not happen, people will not be able to visit but will still be able to see videos and pictures of pups on this page. The pups will be temperament assessed as usual at seven weeks old and I hope to be able to send people a choice of pups suitable for them based on these results and to discuss by phone to help them choose which pup is right for them. If there are more pups than people on the waiting list, I will decide how to interview new prospective owners based on what happens and what the guidelines are at the time.
To avoid puppies missing out on human contact and needed socialisation if new owners can't visit, I would like to reassure everyone that we are a farm and there are as a necessity people coming onto the site for legal and necessary reasons, such as a farm labourer who helps to maintain fencing and there should be an alpaca shearer visiting in May. Building work should also be commencing soon, and we let lock-ups for storage to local small businesses. Shearers are key workers performing a job necessary to animal welfare and work carried out as part of a business not possible to do at home are exempted provided sensible precautions are taken. So in this case the pups will meet normal visitors to the site with biosecurity precautions to reduce any risk, i.e. the puppies being outside in a garden with a step-over barrier, and the visitors interacting with the puppies while we are in the house or at a safe distance away.
Once the pups go to their new homes, recommendations are that you do not walk your pup or put it on the floor in public places or allow it to interact with unknown dogs until it has completed its core vaccine course at about 12 weeks, so it should be straightforward. After this it will be coming up to August, so I think it very unlikely that severe restrictions will be continuing at this point, but it's actually not a bad thing for a puppy to be socialised to see people and dogs 2 metres away and to ignore them.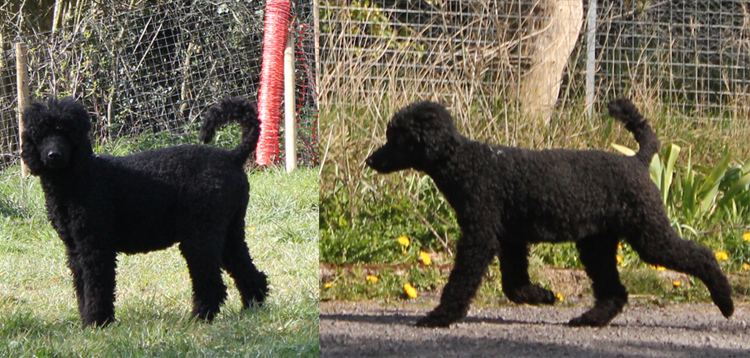 Saffi is 7 weeks pregnant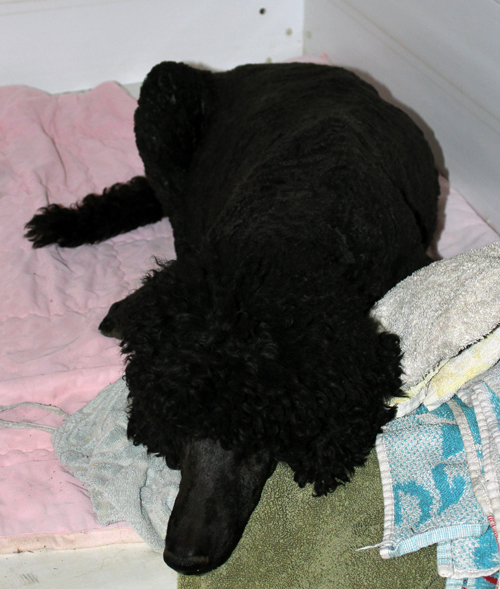 Saffi has less than a week to go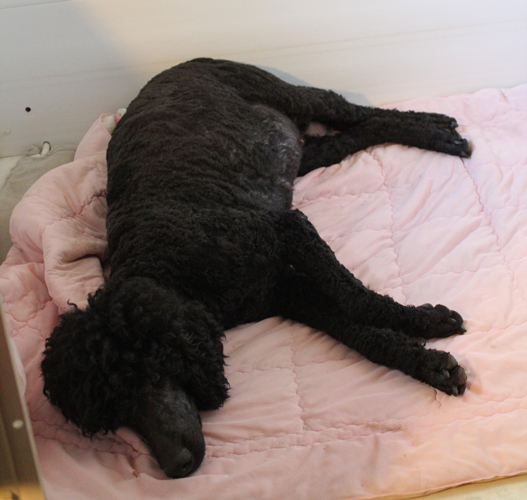 Saffi didn't eat her breakfast this morning. The same thing happened yesterday and she changed her mind and ate it later, so could be anyone's guess.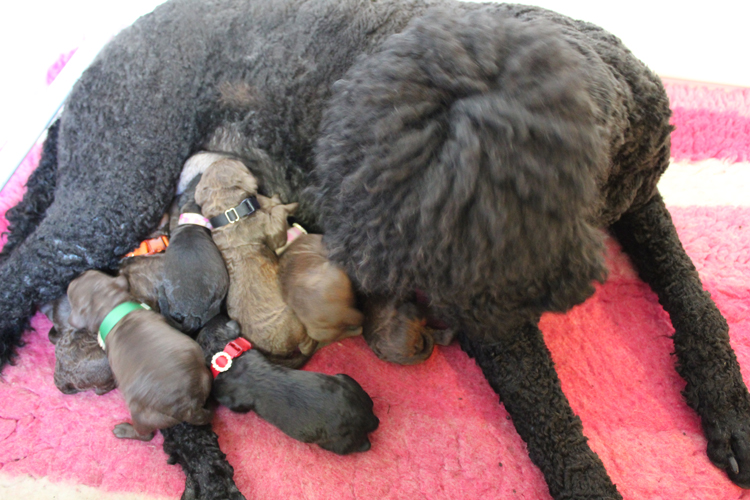 Saffi has 4 boys and 4 girls. One of each sex is black and all the others are brown.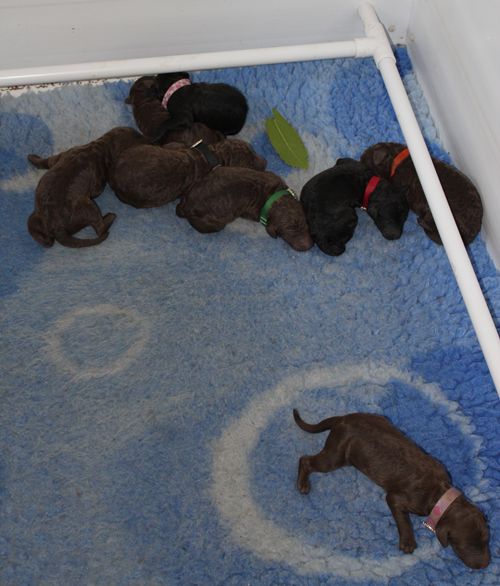 Bay leaf.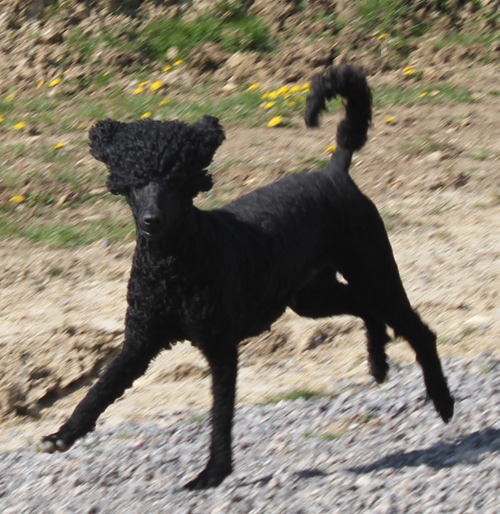 Saffi is exercising
Day
Black b flowery
Brown b hearts
Brown b yellow
Small brown b
Brown d orange
Black d red
Brown d green
Brown d black
1
10
12
13
9
16
12
13
15
2
10
12
12
9
15
11
12
15
4
11
13
13
10
17
12
15
15
5
13
14
15
11
19
13
15
17
7
16
17
18
14
23
16
17
20
Pup weights in ounces. Saffi had a retained placenta, which she passed the next day, and has a course of antibiotics as a precaution. Some of the pups initially lost weight but have recovered and should hopefully pick up now.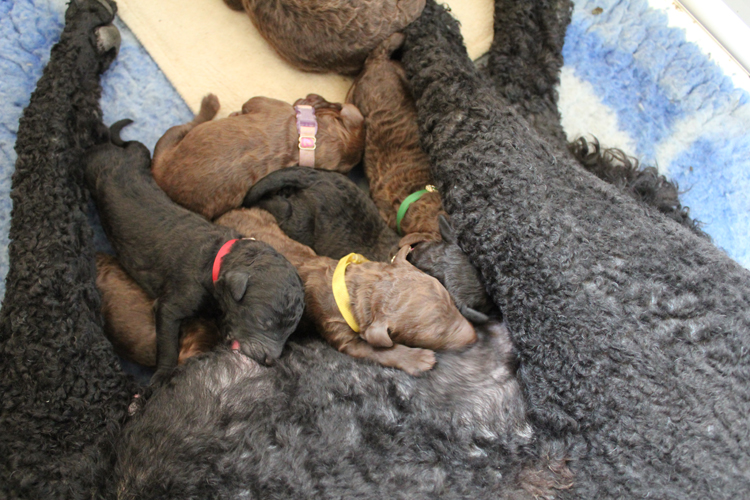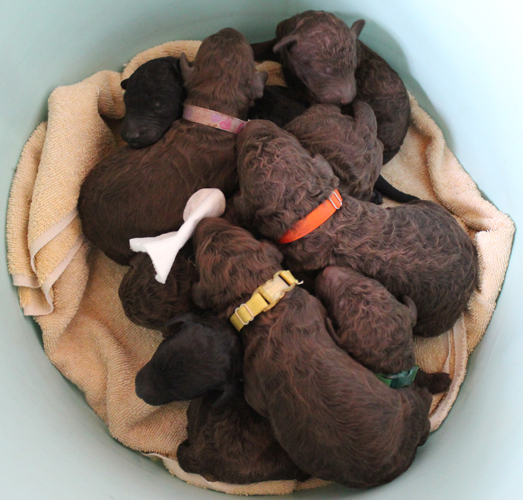 Odour du Jour is cedarwood
Today's smell is anise.
Pups are one week old. Saffi has been washed.
Cypress smell
Hobsey likes pups. She can see them for longer when they're a bit bigger, as I think Saffi found this a bit stressful.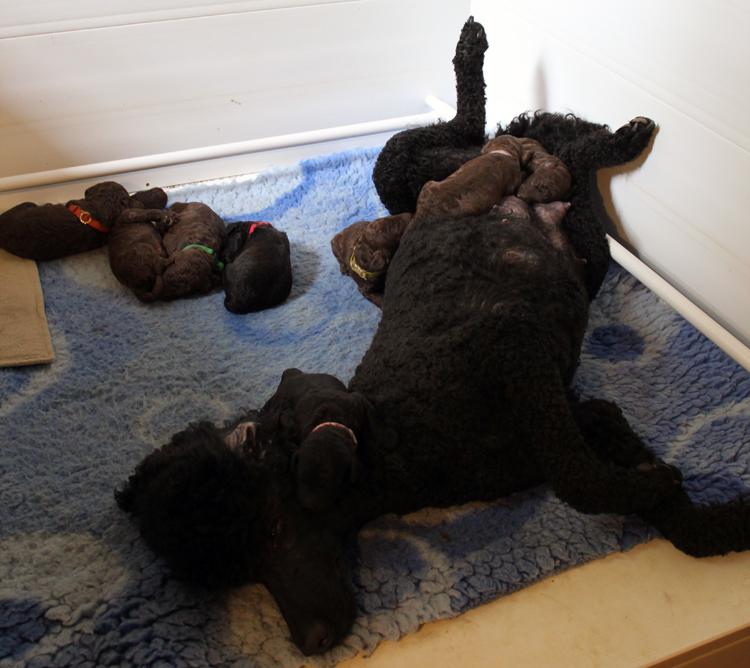 Fat puppy can see.
Saffi has an ASBO because last night she nicked all my leatherworking equipment and hid it under the desk, and then she ate the beeswax.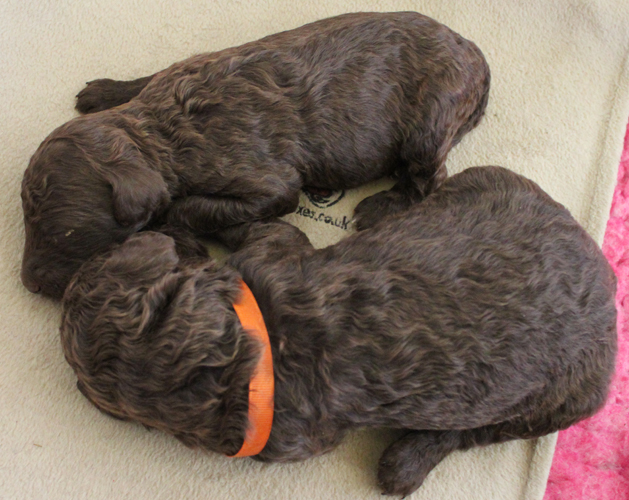 This is the smallest puppy 'Mouse' in the litter, next to her big brother, the largest. While Mouse is smaller, she's within the normal range for a poodle and for the other pups in the litter with the two black pups being close in size to her, and she's not a runt. Yesterday, some of the pups opened their eyes, but Mouse developed a discharge from her eyes and started screaming, to the point that she couldn't go to sleep and was really quite sore. Fortunately we were able to see the vet after lunch, who forced her eyes open and flushed them out and gave her an injection of antibiotics and painkiller to make her more comfortable. Puppies are susceptible to getting eye infections at about the time their eyes open, although it's not happened here before, and possibly the antibiotics Saffi was given as a precaution for her retained placenta are in part responsible, as people and animals have benign bacteria naturally on and in their bodies that help protect them from more harmful bacteria, and antibiotics can disrupt the balance. As soon as Mouse got home she went to sleep and Saffi went for a walk and had her dinner, and she had a really good suck. I have eye drops to put in her eyes twice a day (which is not easy as she still doesn't want to open her eyes!) so hopefully she won't have any more trouble with this.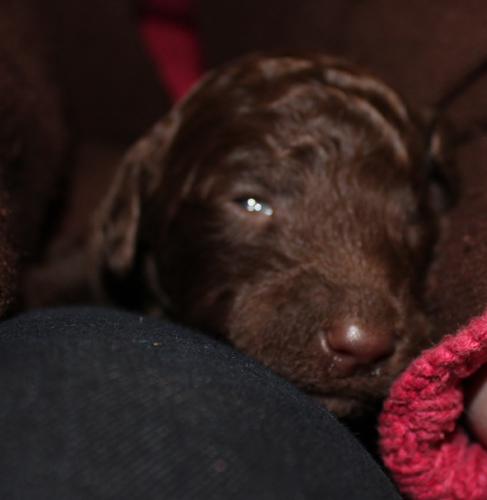 The puppies are 2 weeks old and are being wormed and have had their claws trimmed. Here is Mouse puppy sitting on my lap after having her eye drops. She's doing well and her eyes are opening normally now.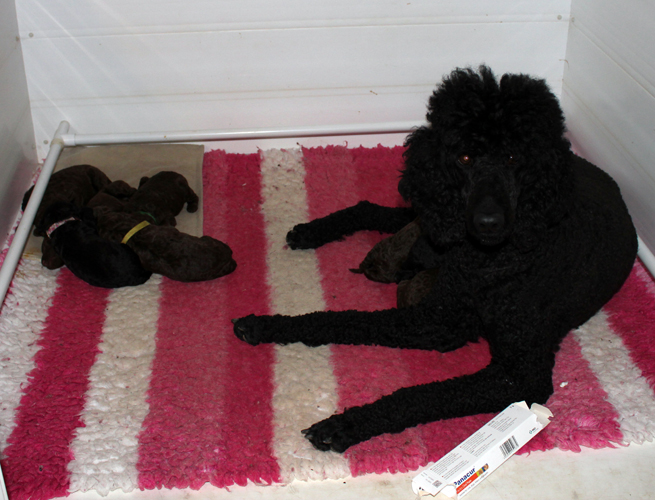 Saffi is a kleptomaniac who empties the wastepaper basket on the floor and nicks things off my desk. She has already nicked the box that the wormer for the pups comes in.
Pile of purring pups.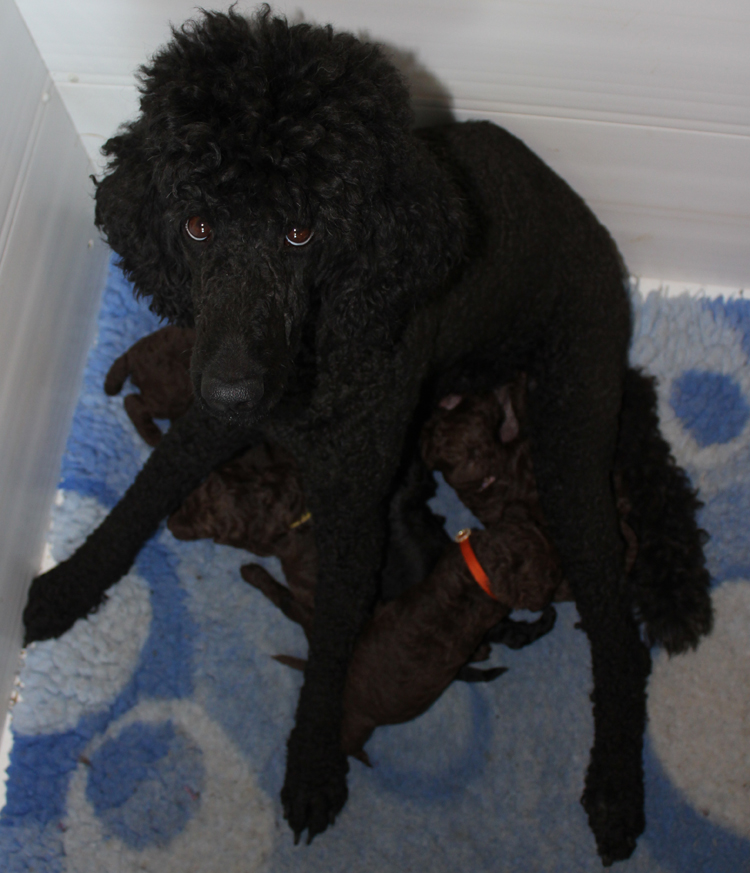 The pups have started to look at each other and me and Saffi. They wake up when the door slams and are starting to show an interest in their surroundings. I have put some newspaper at the front of the box as they have started to wee off the side of the rug. The boy with the green collar walked on the newspaper a lot and seemed to like the texture and the noise it made.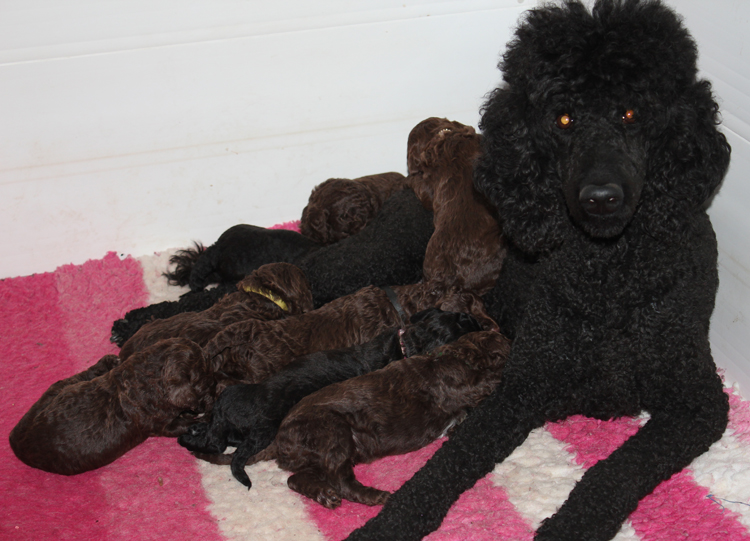 Puppies are 3 weeks old
Puppies eat food. Usually I give the puppies a tin of sardines as their first meal, as they love to suck the sardines and the fishy water they are in even if they aren't too hot on eating solids. We don't have any sardines and can't get the tins in spring water at the moment for some reason because of the pandemic, but they seem to have done all right on Natural Instinct mince.
Hobsey is borrowing the puppies for a few minutes
The pup TARDIS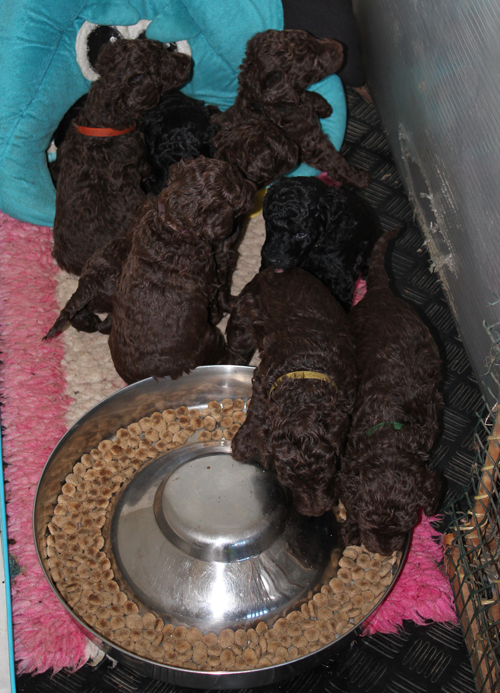 Soggy food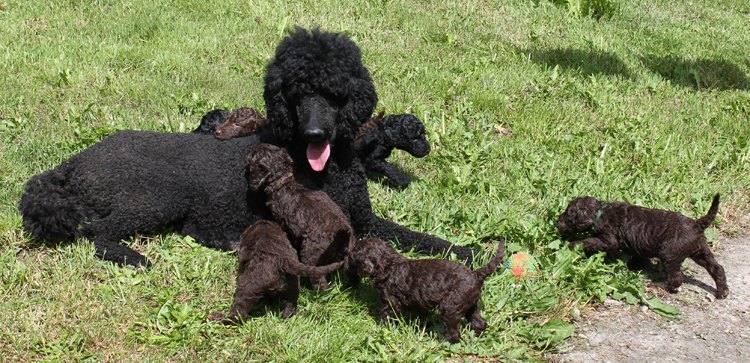 Outside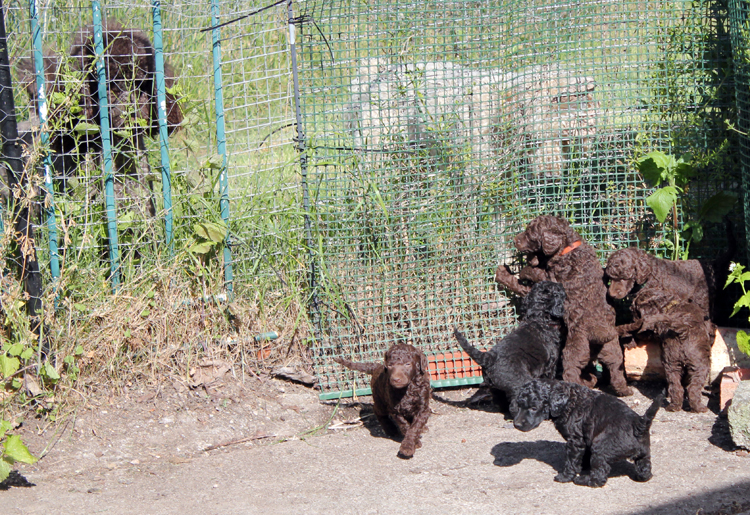 Who the hell are you?
Pups relax after a hard day loafing about the garden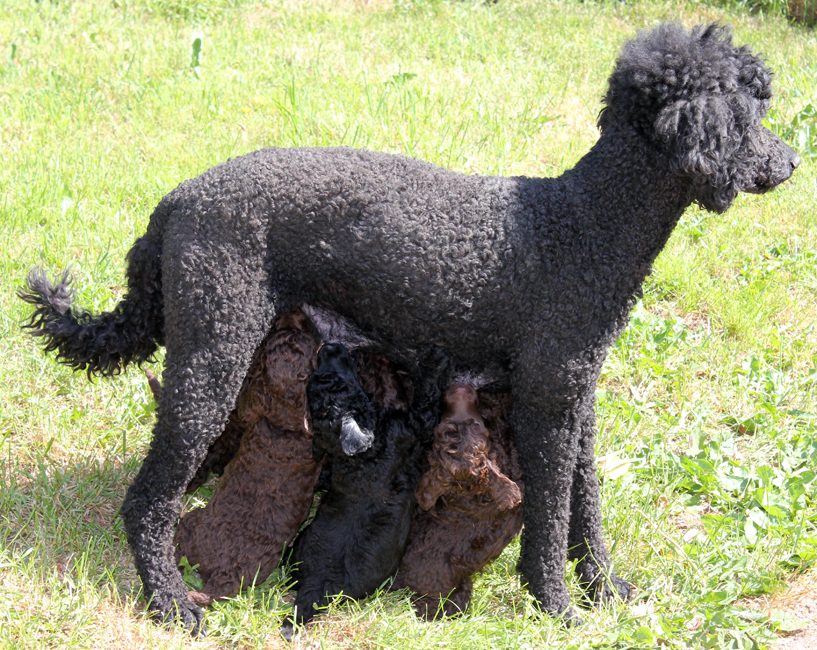 Boy with red collar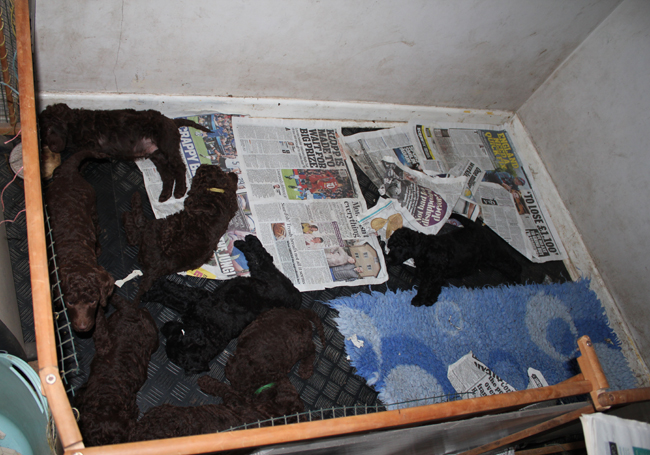 Hot stuffy evening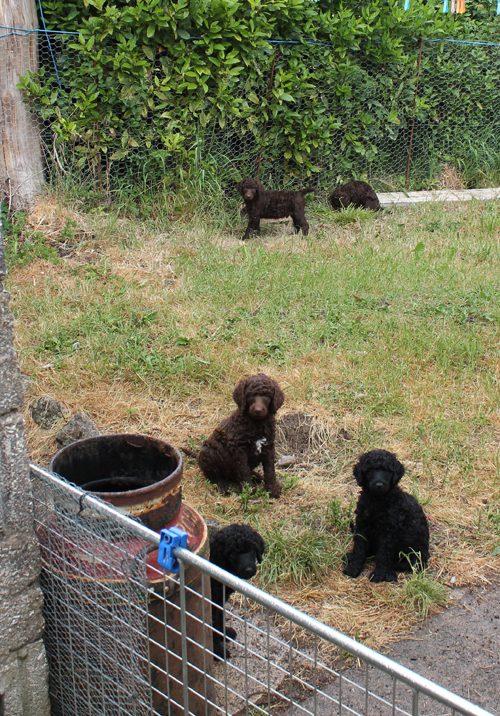 Damp puppies in the rain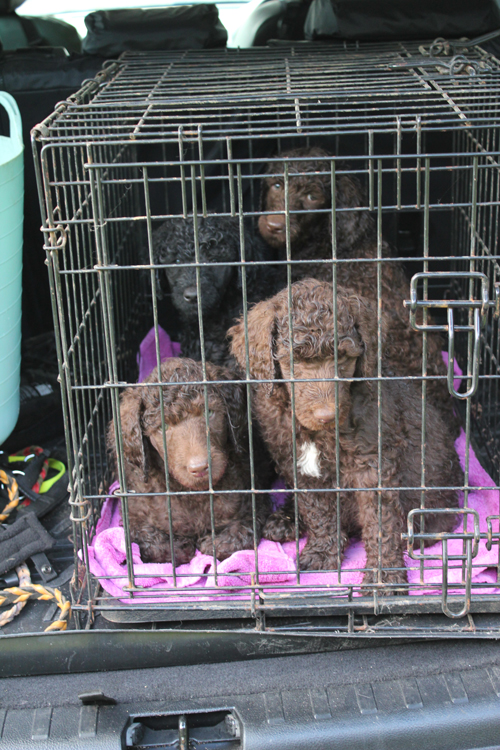 The puppies travelled to meet some people to help with their temperament assessment. The temperament assessments are complete and the puppies should be assigned to the people on the waiting list over the next few days.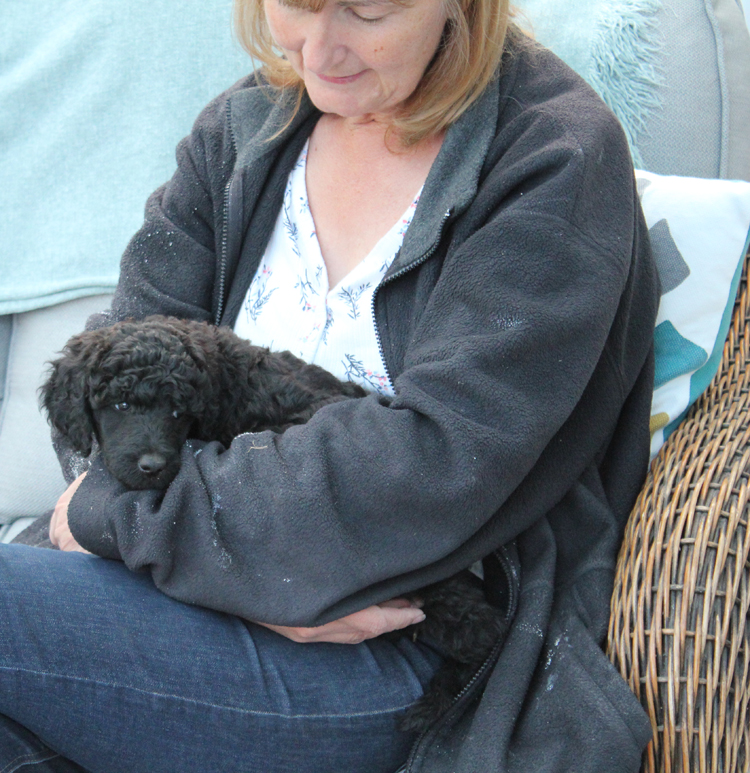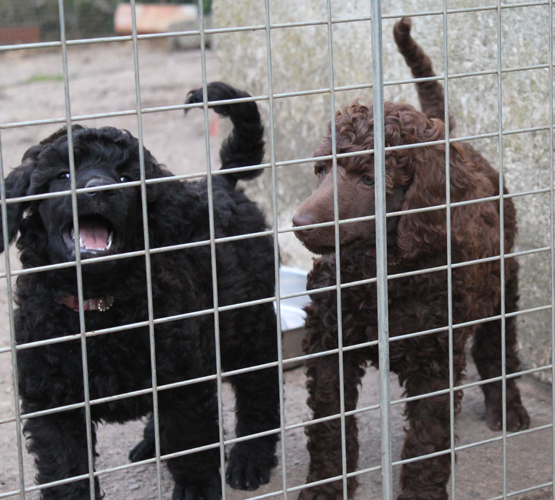 The pups are 8 weeks old and 4 of them have gone home today. These are the two girls with pink collars.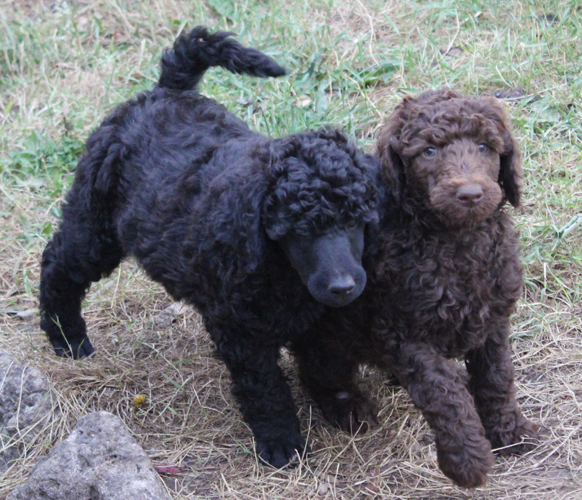 And this is Mouse and 'Huntsman' (red collar boy). Mouse is going last and hasn't been clipped yet.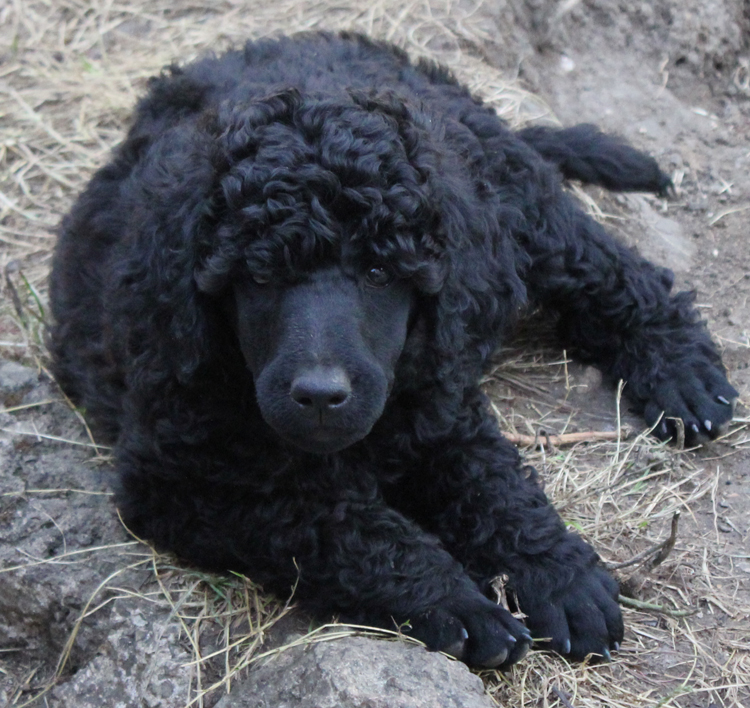 This boy is gorgeous and I would be tempted to keep him for myself! Fortunately he has a family to go to as I have enough boy dogs!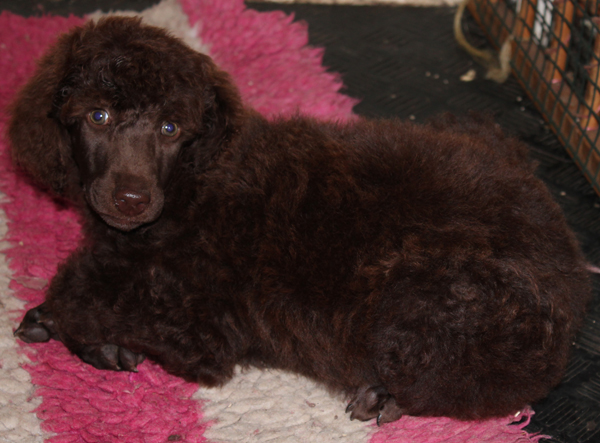 Mouse, whose new name is Sappho, before she went home in a monsoon.