Hobsey's four strapping boys arrived on the 6th of February. All the pups have gone to their nice new families, apart from Trilby who is staying with us. If you are interested in joining a future waiting list or would like to know anything else about my poodles, please get in touch.

Hobsey Athos
X Czech Grand Champion
JORGEI ONLY HOBSONS CHOICE ATHOS BROWN LADY SORBONNA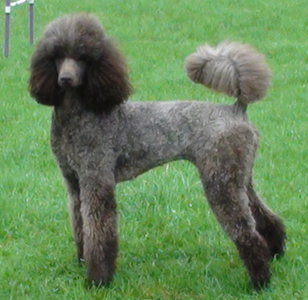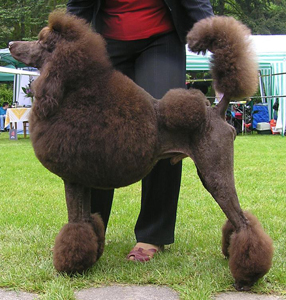 More information about Hobsey including her health test results and achievements can be found on her page on the site. Athos at the time of writing is 11 years old and in excellent health, and has a hip score of 'B' in his country's system, where 'A' is best and 'E' is worst, and a prcd-PRA DNA test result clear. Please see Wywylwynd Guarantee under Information for details about what is included with pups.

COI 10 (SPD) 0%
COI 15 (SPD): 4%
Wycliffe: 27%
OEA: 6%

Click to download SPD calculation in PDF format,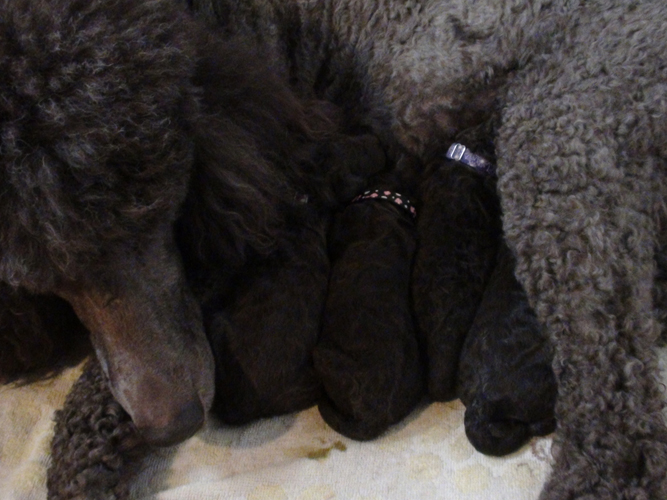 I am very grateful to Athos's owner Václava for allowing us to use this lovely boy from an old and unusual bloodline. As the distances and timescales involved meant this litter could only practically and realistically be achieved by the technology of frozen semen, I am also extremely grateful to Hector Heathcote and Sue Finnett for their expertise and counsel.


Hobsey is 8 weeks pregnant



Day
Maple boy
Fungus boy
Spiderboy
Flower boy
1
21
16
17
19
2
21
17
18
20
6
33
26
29
32
14
60
51
52
59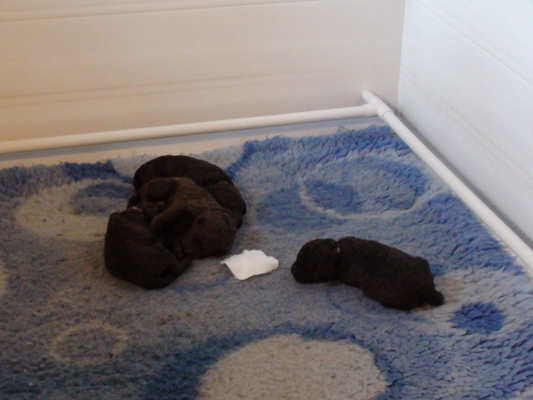 The Smell of the Day is sweet birch.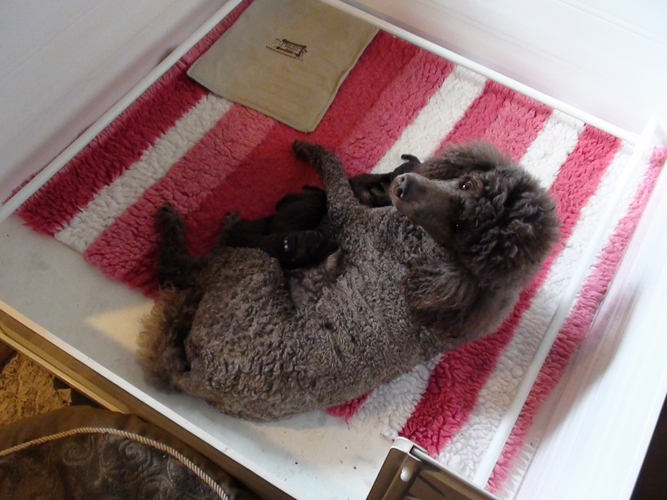 Pups are 1 week old. Hobsey making a funny face.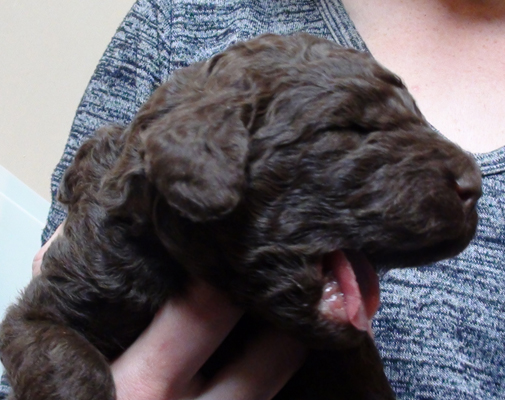 Pups are 1 1/2 weeks old and are starting to open their eyes. They seem to have quite thick coats and won't keep still, so it's hard to photograph.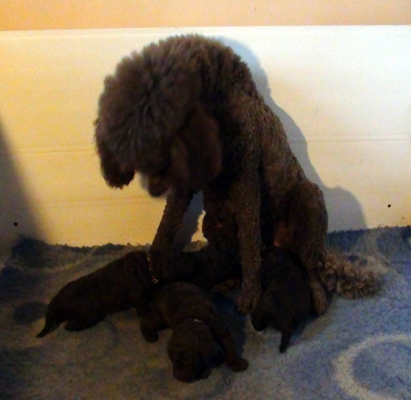 Pups are 2 weeks old and have all opened their eyes.
Puppies are being wormed. Tastes odd!
Indi Pindi loves pups -- even when they aren't hers.
The Brown Bros recently turned 3 weeks old and have been interacting with toys and with each other, had their faces clipped for the first time, and had their first taste of food.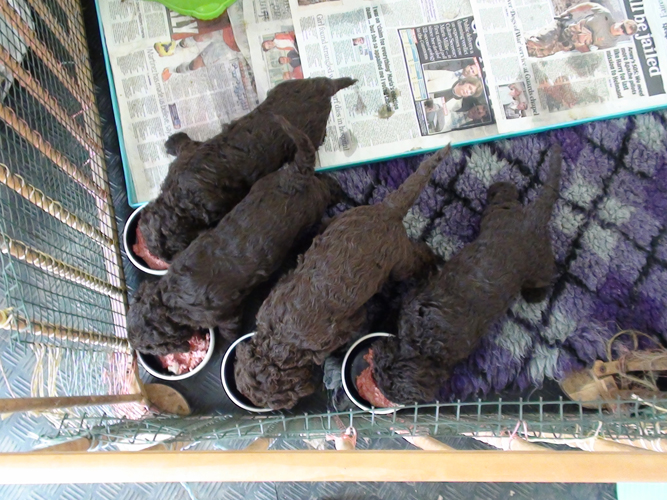 Pups eating 'Natural Instinct'.
Pups are 4 weeks old. Clockwise from top right: Fungus boy, Spiderboy, Flower boy, Maple boy.
Pups explore the grooming room floor and the toy keyboard, while I clean up the mess they have made. The personalities of the puppies are starting to develop. Maple, who has always been the biggest and is a slightly lighter colour than the other pups, is the boldest puppy, although the puppies are reasonably even and none are timid.
Pups are 5 weeks old and can go outside when the weather permits. They have to be filmed from inside because they won't go away if they can see me.
Chicken wings alfresco. The puppies are incredibly civilised about their food! I think it's because they've had separate bowls from early on with there being so few of them. The dogs watching are Saffi aged 2 and Pandora aged 1, who both love the pups.
Saffi and Pan are annoying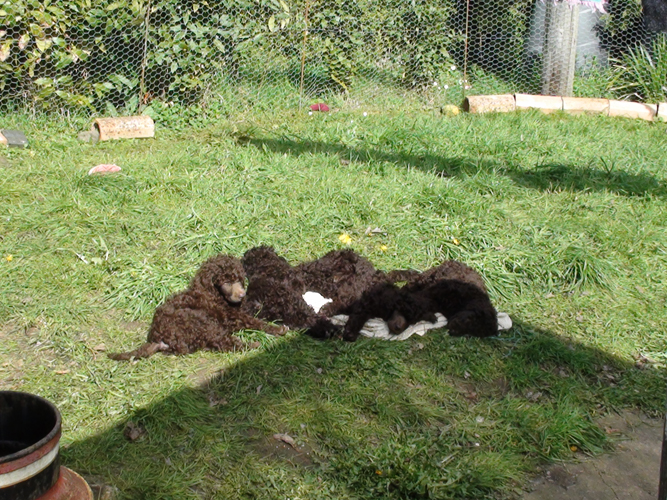 Pups lying in the sun.
Fungus (Fergus) and Flower (Charley) have gone to their new families. Maple (left) and Spider (right) are coming up to 10 weeks. Spider is probably the puppy I will keep. Maple will be joining his father's family in the Czech Republic once he has a passport and is old enough.