Adhara has 5 lovely puppies born on the 6th of February: four girls and one boy. All are brown apart from one black girl. All Adhara's pups have now gone to lovely new owners, apart from Pandora who is staying here. If you are interested in joining the waiting list for a possible litter later in 2018 or would like to know anything else about my poodles, please get in touch.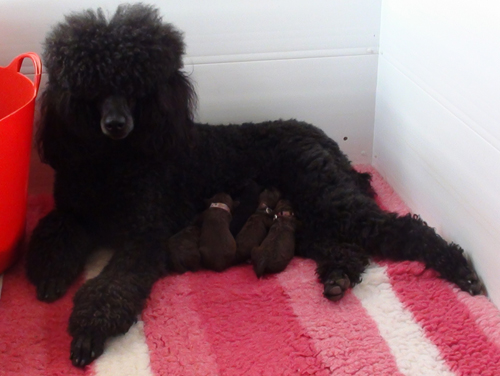 Adhara Otto
X
WYWYLWYND ADHARA AJDAR zu FEENHOF von WYWYLWYND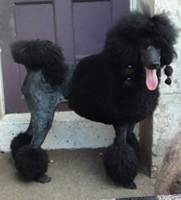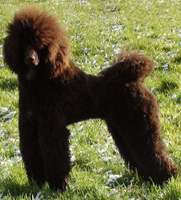 Click to download a 7-generation pedigree in PDF format
Click on Otto's or Adhara's names above to see their pages with health tests and information.

COI 5-generation (KC website): 0%
COI 10-generation (SPD): 0.6%
COI 15-generation (SPD): 4.6%
Wycliffe contribution: 34%
OEA contribution: 8%

SPD calculation output (pdf)




Both Adhara and Otto are very loving and owner-oriented poodles with strong motivation and work ethic. Adhara does agility with me and we have recently started competing. Otto is sired by a Polish conformation champion and out of a bitch descended from a Russian working bloodline that is successful in a sport similar to working trials. He is at the start of his career but is making progress in working trials training, and has achieved his KCGC Bronze obedience award. Both dogs are of moderate size, Adhara being 23" and Otto slightly smaller, and very agile, so we hope to have some nice athletic pups who should excel at sports or as companions for active owners. This will likely be Adhara's only litter as I want to concentrate on her agility, and is happening purely because I want a puppy from her to keep.

I believe the waiting list for this litter is currently full. If you are interested in joining our waiting list for a future litter, we have provided a questionnaire that you can download from the main Puppies page that will help you start thinking about how to prepare for your new companion and help us match you with a suitable puppy. Please see Wywylwynd Guarantee under Information for details about what is included with pups.

Sadly there would have been nine pups in total: two boys who were stillborn and a tiny runt, less than 100 g in weight. She would not nurse and she would not swallow anything we tried to put in her mouth, and passed away a day or so after being born. The pups are a lot smaller than the ones in the last two litters born here, and horrifically on the second day of life, one of the black girls managed to get under Adhara's elbow while she was lying in the box feeding the pups, and Adhara leaned on her and killed her. This happened in seconds while I was sitting right next to them and had checked on them minutes before, and nobody made a sound.



Day
Girl black
Girl pink
Girl green
Girl purple
Boy
1
6
10
9
9
7
2
8
13
10
11
8
3
9
13
12
11
8
4
10
14
14
13
10
5
13
17
16
16
12
6
15
21
19
19
14
7
16
22
20
19
15
2 weeks
31
39
35
36
29

Pup weights in ounces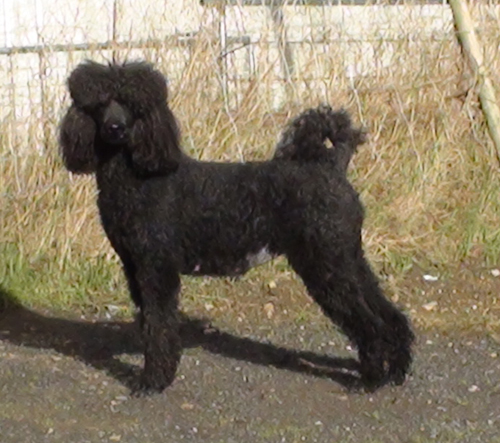 Adhara 6 1/2 weeks pregnant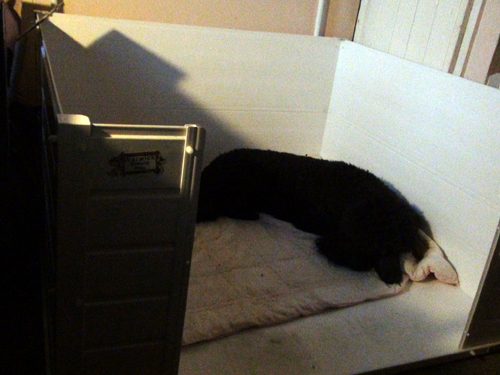 Adhara is 7 weeks pregnant and I have assembled the whelping box so she can have a secluded nest in which to relax alone. She is getting hungrier now, and gets to eat out of the special bowl for pregnant and lactating bitches, which can fit more food in it!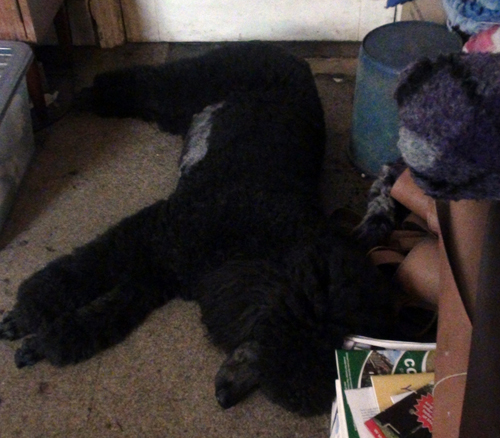 Adhara is 8 weeks pregnant and has been washed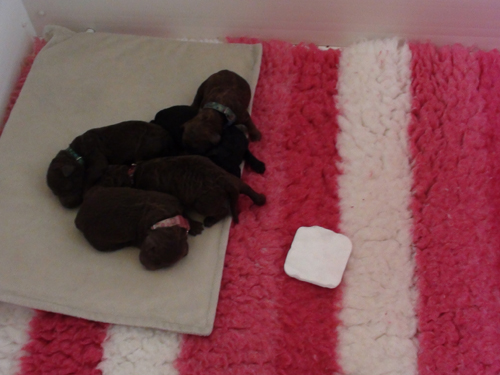 Early environmental stimulus: introduction to a smell, in this case aniseed.
Reaction to smells day 2: clove bud oil
Little boy, day 5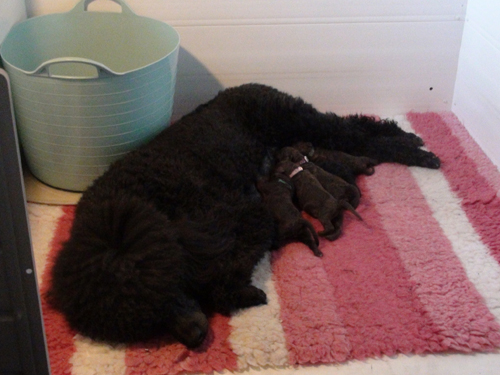 Adhara's pups will be 1 week old tonight. All the pups have doubled in weight and no longer need supplemental feeding.
9 days old. The pups' eyes should be opening soon, and they are already starting to show more facial expressions. It's normal for puppies to twitch a lot while they sleep like this.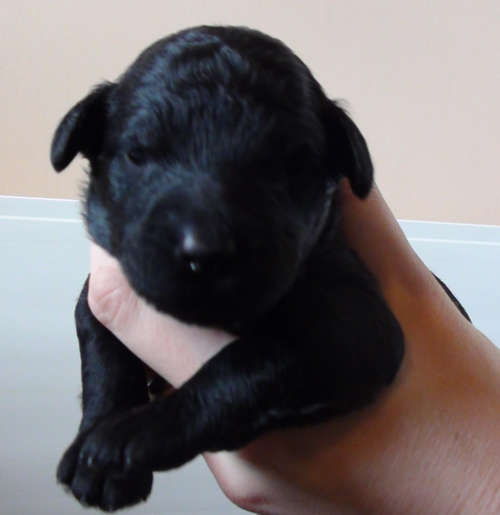 Little black puppy is the first to open her eyes.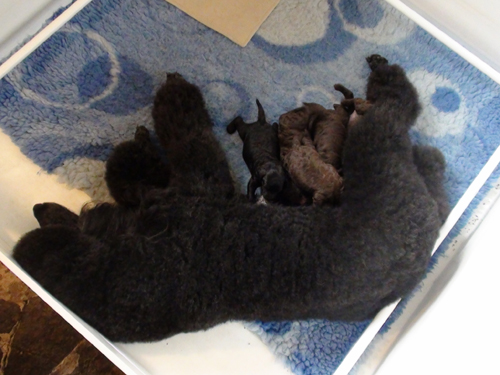 Adhara had her first proper wash and dry since the pups were born, and is nice and clean and comfortable, at least for now.

The pups are 2 weeks old and have all opened their eyes. Now it is time to worm them and add things for them to start looking at.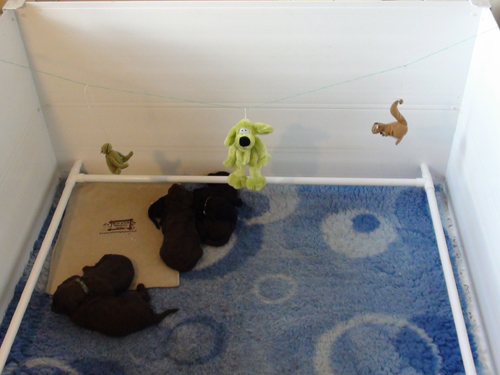 The puppies are starting to interact with toys and with each other
The puppies will be 3 weeks old tonight and are meeting Indi. Indi was the mother of the 2017 litter we had, and although it took her some time to work out what her pups were, it turned out she loved them and she looked after them really well. She loves Adhara's pups too and licked them and lay down as though she wanted to feed them. This is something that has to be done very carefully, as it's good for the puppies to be able to meet new dogs, but some bitches have been known to jealously attack young pups of other bitches from the same household, particularly if the mother is a more junior bitch.
Puppies learning to drink milk out of a bowl. This is 'preliminary' weaning that gets the pups used to trying something from a bowl and takes some of the burden of meeting all the pups' feeding requirements off the dam, and once a day for the next few days the pups will have this opportunity. Leaning over an edge to get something to drink is a bit of an alien concept to puppies!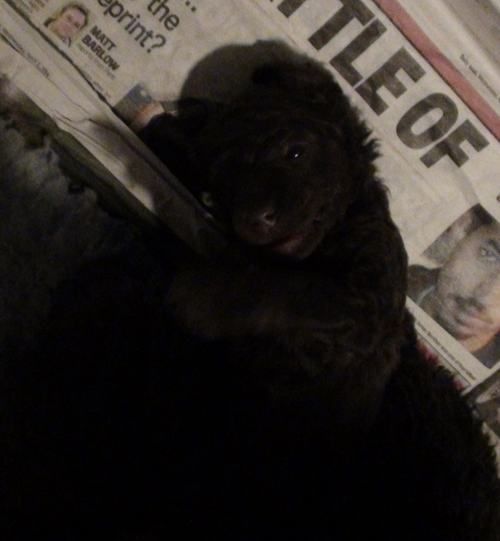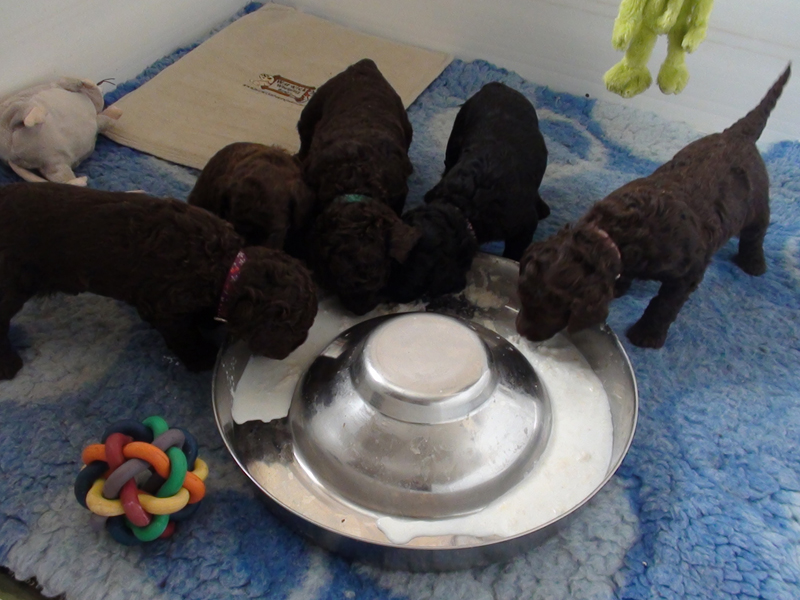 A revolting porridge, made from tripe and milk!
SQUASHED SARDINES!
Pups nearly 4 weeks old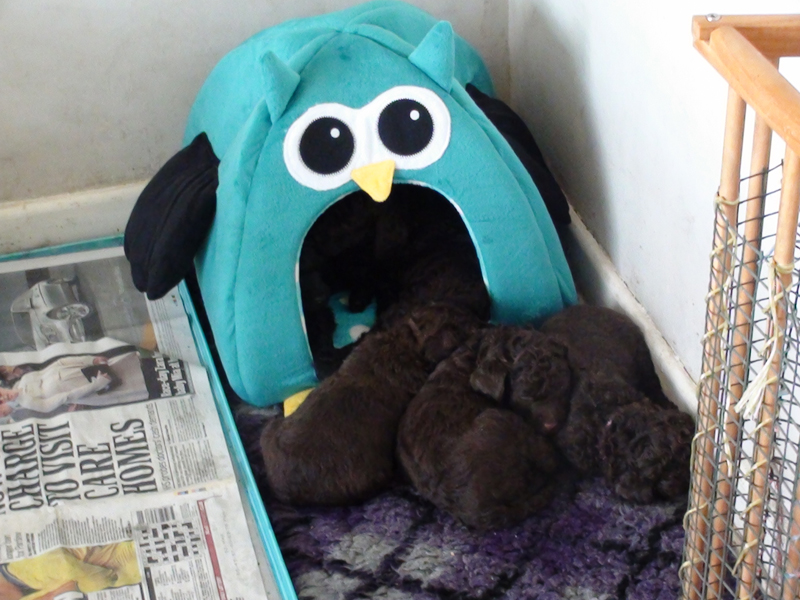 Pups are 4 weeks old and have moved into the bright and airy pen in the pup room (a lot easier now the weather has warmed up!). Two of the pups are inside the cosy.
Blog post: Meet the Pups
Puppies are eating 'Wolf of Wilderness' puppy food soaked in water. I always keep my pups in a TARDIS when I am not feeding them.
The pups encounter unfamiliar objects daily, but this is the first really interactive object.
Pups play with IKEA toys and eat tripe.
Pandora (formerly green collar pup), Paris, and Ebony are the most toy-driven pups in the litter. All the pups are interested in playing with the toys, but Miss Piggy and Purple Pup are less drivey. Miss Piggy is more interested in people than toys (Miss Piggy is the puppy with a lighter nose than the other brown pups, who stands up against the side of the pen often). Pandora is the darkest brown pup who plays with the apple, grapes, and melon, and Paris is the smallest pup who plays with the apple and the kiwi fruit and melon later on.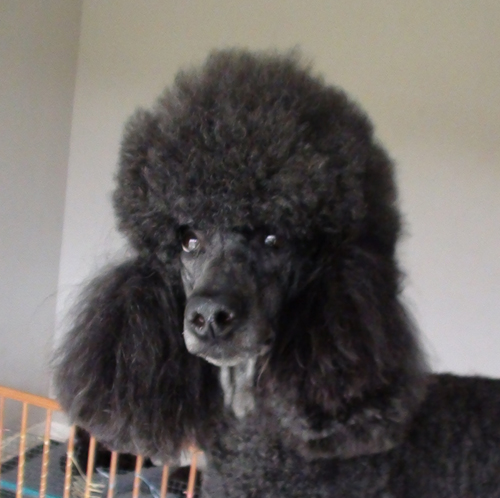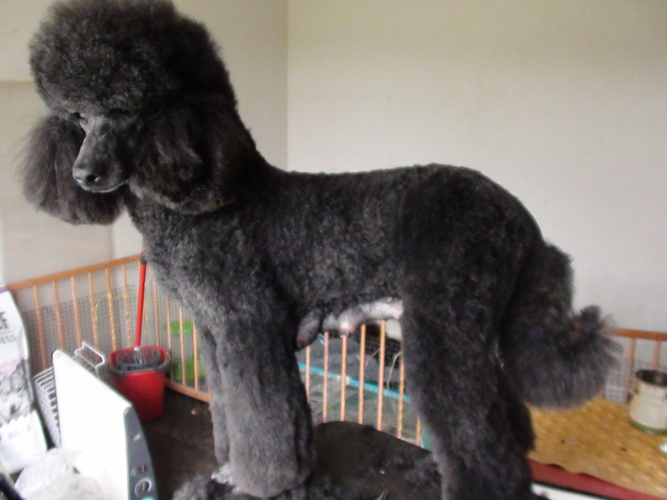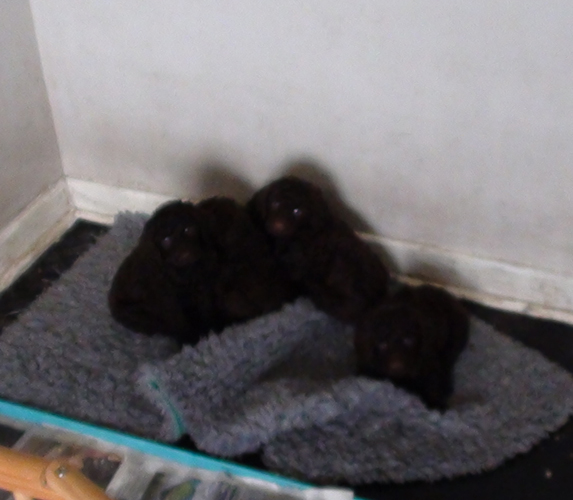 Adhara got washed. The drying and trimming happens in the room where the pups are, so this is a good introduction to the noise of the dryer.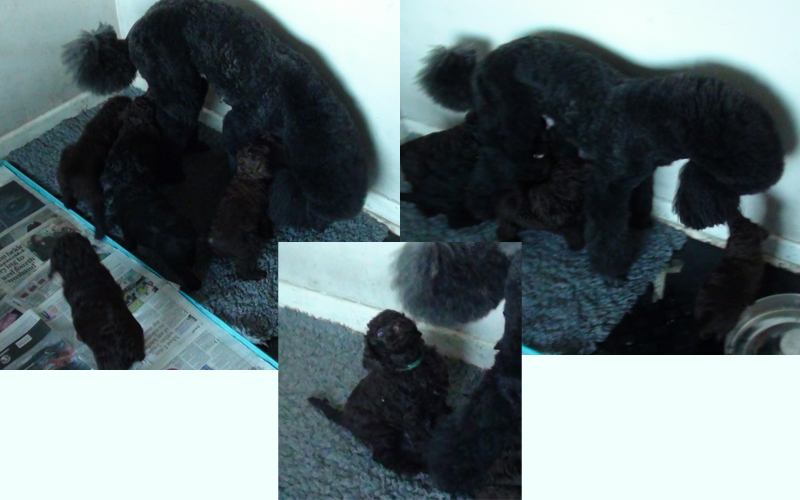 Adhara feeds and spends time with the pups once a day. Although the pups look irresistibly soft and fuzzy, they have teeth now and she doesn't like to spend very long with them, because they're rather overwhelming and they suck really hard! Later this week, she will stop feeding them for a few days so her milk can dry up. Once she doesn't have any milk the pups will have to stop treating her like a meal on legs and she will get more respect and enjoy spending time with them more!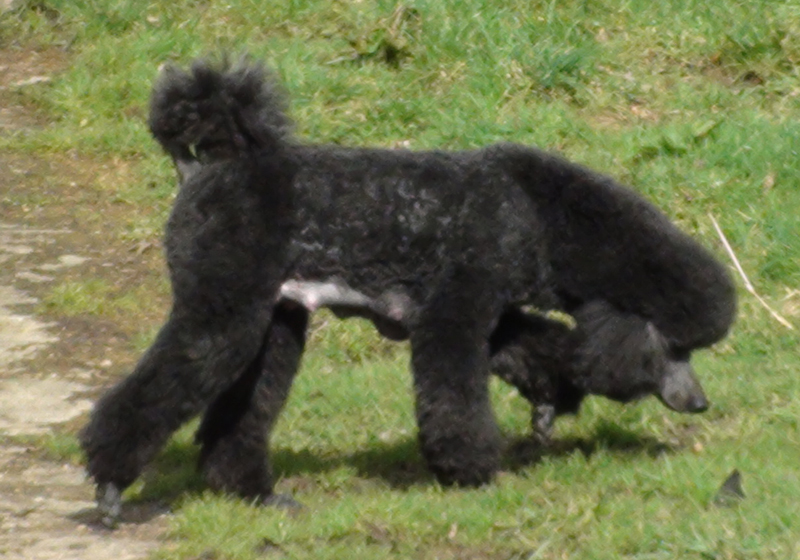 Making a loud noise near the pups (by standing on an airbag next to the pen) helps the pups develop resilience to unexpected noises. It also allows assessment of which pups are most likely to be gunsteady. Paris and Purple Pup startle which means the other three pups who show little reaction are more likely to be suitable to be trained to the gun.
They hated it! But it was edifying.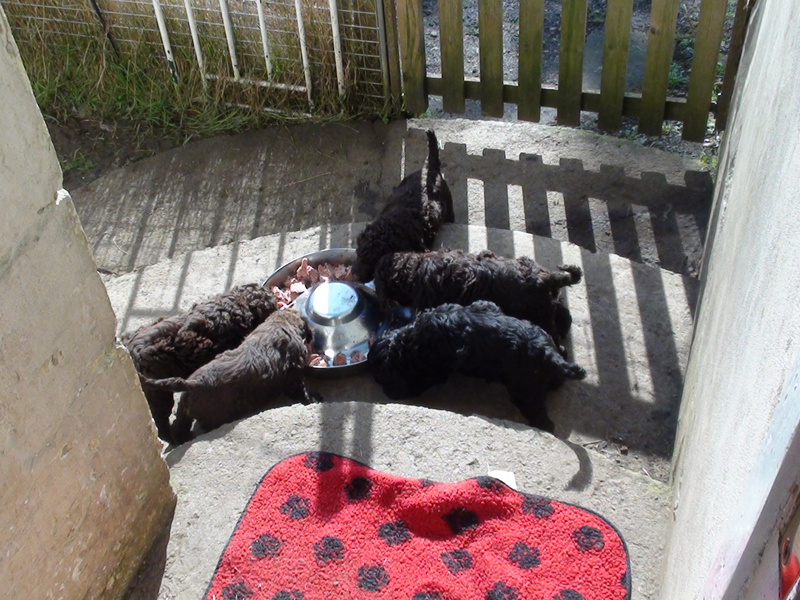 Finally a spring morning that's not too soggy. All they want to do at first is sit on the step and whinge, but they soon start to explore the garden. And hopefully they will poo while they're out there so I don't have to clean it up in the house.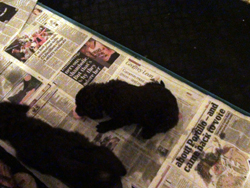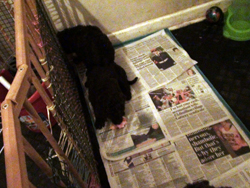 Pups eat chicken wings. An interesting experience and a sort of toy as well as food.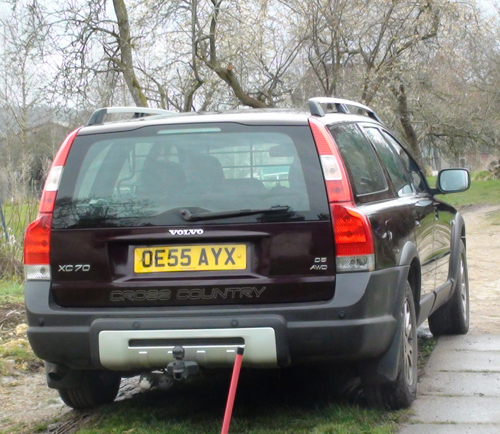 Here is a motor-car that is clean. Perhaps it can stay that way for a little while.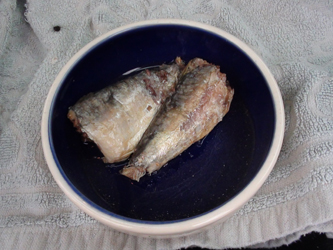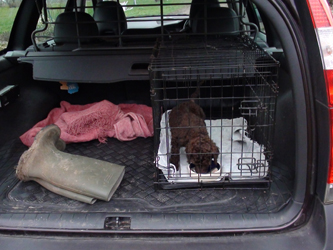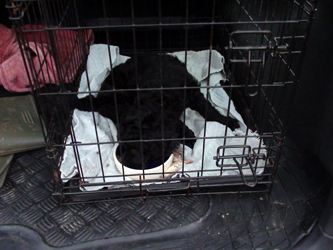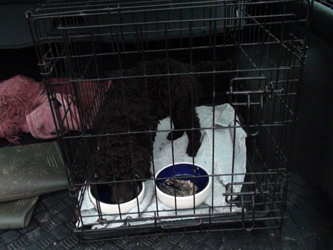 ...or not.
It is raining outside. The pups are 7 weeks old and bored.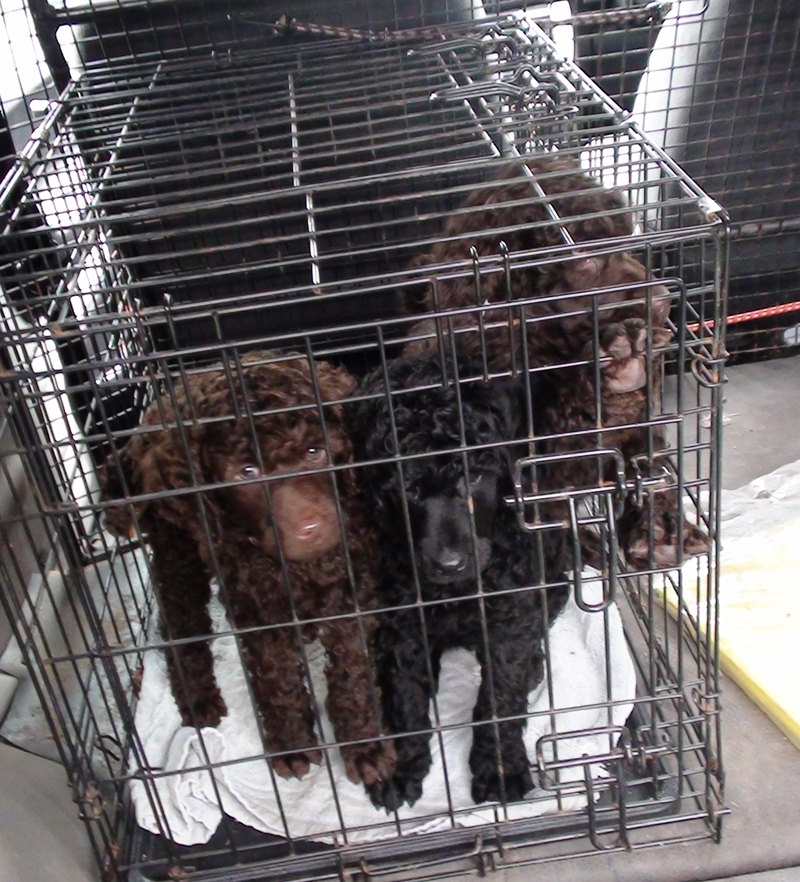 Miss Piggy, Bella (Ebony), and Bren (purple pup) went to the vet and all were sick on each other on the journey. Fortunately it has stopped raining and they can go outside and wipe the sick off on the grass.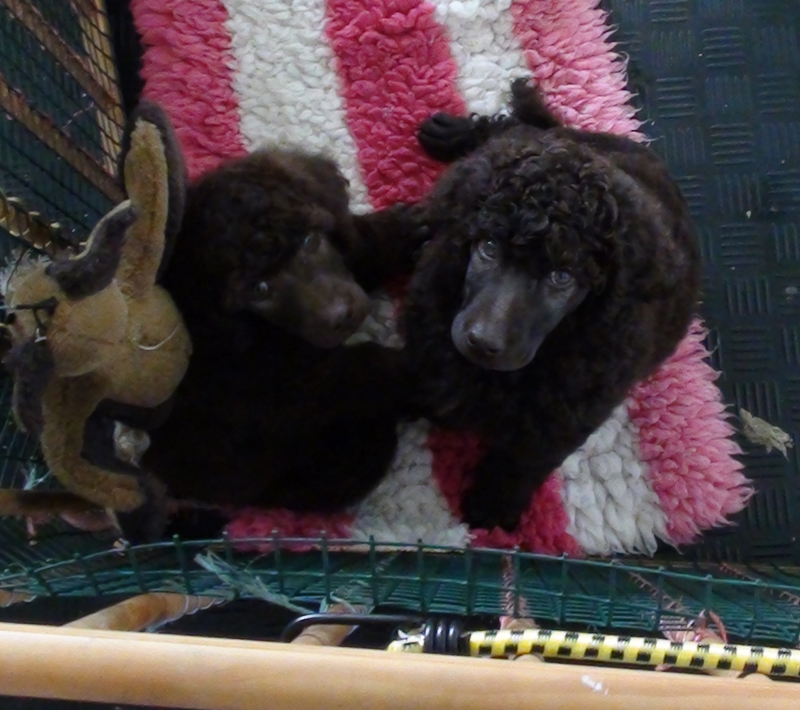 The pups were 8 weeks old yesterday and most of them have gone home! Balthasar (Paris) is going home next weekend and Pandora will be staying here.