Indi's four epic pups were born on the 14th July. Midori is staying here and the other puppies have left to begin exciting lives with their new families. If you are interested in joining a waiting list or would like to know anything else about my poodles, please get in touch.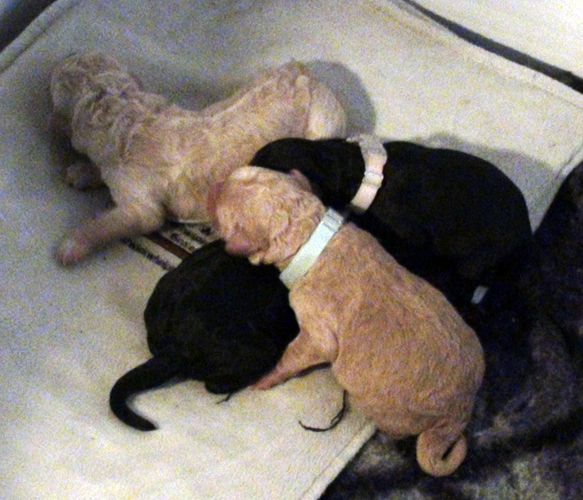 Indi Kuiken
X Dutch Junior Champion
CLAVIDD CRUSADE FOR INDIGO PINQERTON SIR LANCELOT FURORE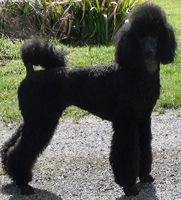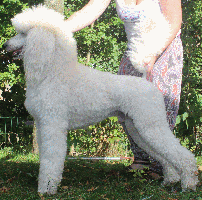 More information about Indi including her health test results and achievements can be found on her page on the site. Kuiken at the time of writing is 8 years old and in excellent health, and has a hip score of 'A' in his country's system, where 'A' is best and 'E' is worst, current clear ECVO eye certificate, and clear DNA tests for vWD, NE, and prcd-PRA. Click on his name above to see his page on his breeder PinQerton's website. Please see Wywylwynd Guarantee under Information for details about what is included with pups.

COI 10 (SPD): 3%
COI 15 (SPD): 5.4%
Wycliffe: 34%
OEA: 9%

Click to download SPD calculation in PDF format,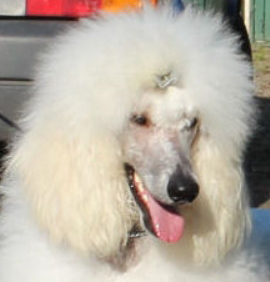 Kuiken
Indi's pregnancy came to a dramatic, expensive, and somewhat unfortunate end, as after safely delivering three girl pups on the one morning of the week the normal vet was shut, she fell into a pattern of unproductive straining which necessitated a trip to the emergency vet for a section and spay. The cause of the obstruction was a severely oedematous fourth puppy (filled with fluid and more than twice the size of the other pups) that would never have been viable and likely had abnormalities of internal organs that had caused it to develop this condition, and that Indi would never have been able to pass normally. The fifth puppy was recovered alive and safe during the surgery. Indi is recovering well from the surgery but has developed some inflammation in one mammary gland on the fourth day, which might be something to do with the position of the incision, but has been put on antibiotics as a precaution to prevent mastitis developing.
Day
Lilac girl
White girl
Blondi
Quintus
1
17
12
17
18
2
18
13
18
21
4
21
17
21
22
7
32
28
32
32
Smell of the Day is cypress
Indi's pups are 1 week old
A heat wave is happening now. Whelps can't pant to cool down. I have tried putting a 'cool mat' I got for the dogs a while ago into the whelping box. The adult dogs never bothered with it and the foam in it went lumpy and so far I don't think the pups are too impressed by it either. The cream puppies have opened their eyes.
Puppies are 2 weeks old
I don't think Indi was particularly happy with this exercise, but she let her daughter Saffi look at the pups. We probably shouldn't tell Indi, but Adhara came in here and LICKED the pups while she was outside.
The pups still spend a lot of time sleeping, but they have started to interact with each other.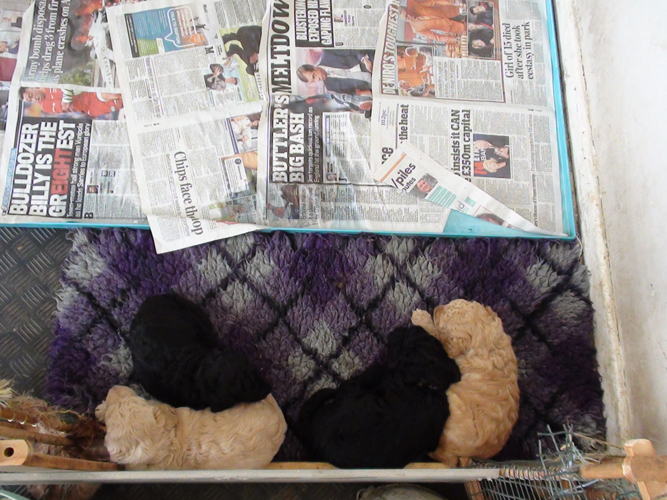 Pups have moved into the pen and have had their first meal of squashed sardines today
The puppies have been visited by their owners-to-be over the past few days. I put Hobsey in with them to clear up the mess they made with their lunch, but she loved on them and didn't want to come back out!
Indi plays with her puppies
Toy keyboard interaction and reaction to a sudden noise. Purple pup and Blondi were more interested in the keyboard whereas Quintus and white pup were more wary of it. Oddly purple pup seemed to dislike the sudden noise test the most, although none of the pups showed an obvious startle.