Please get in touch if you are looking for a puppy and are interested in joining a waiting list, or would like to ask any questions about our dogs or discuss anything about the breed.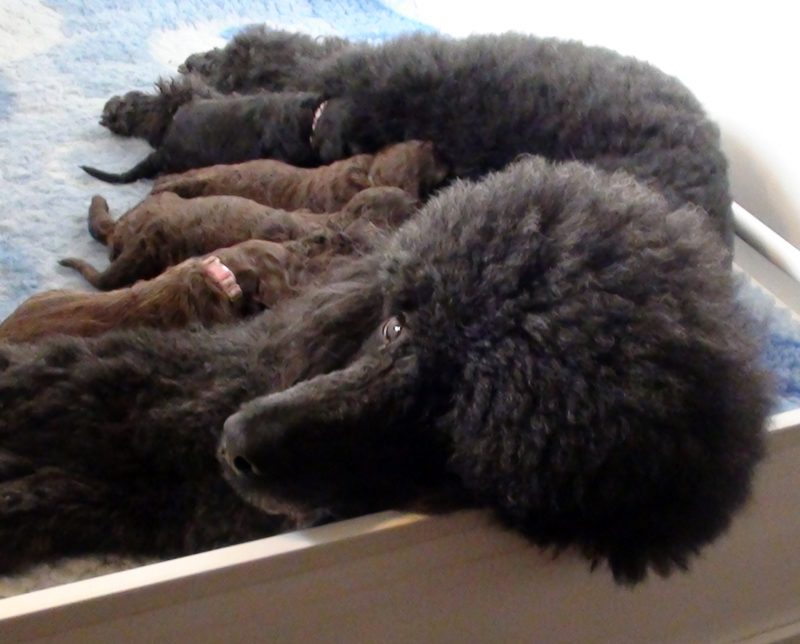 Some people selling puppies can be rather strange about enquiries. "No Time Wasters," they say. I am happy to answer any questions about my breed and my dogs. Adding a dog to your family is a big decision that needs to be carefully considered, so please do not be worried about wasting my time if after all you decide a poodle is not the right breed for you, or the time is not right to get a dog.
The colours I primarily aim to breed are black and brown, but factors such as diversity, temperament, and conformation I consider more important than having all the puppies in a litter being set colours, so I may sometimes have other colours available.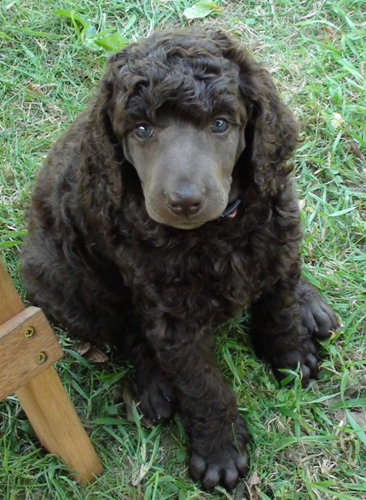 Brown poodle puppy
Socialisation Programme
Birth-48 h old
: Puppies are adapting to life and learn things like breathing and sucking. The puppies are most vulnerable at this age, and sometimes pups that have something wrong will pass away naturally at this stage.
Up to 2 weeks
: Puppies experience the world through smell and touch. Each day until 2 weeks old, the puppies experience a new smell. We use essential oils used in the sport of scentwork and also things like herbs from the garden. Puppies are handled and weighed daily until they are a week old.
2-3 weeks
: Puppies' eyes open and their sight starts to develop. A different toy daily is introduced to the box for the puppies to look at and interact with. Puppies start to wee and poo on newspaper.
3-4 weeks
: Weaning begins and the puppies' access to the dam for feeding is broken into a mealtime routine. The bitch is allowed to spend as much time as she wants feeding and playing with them from set hours in the day, but once she decides she's had enough she goes back to spending time with her human family until it's time to feed them again. One meal is replaced with milk in a weaning dish, and gradually this is mixed with introductory food. The puppies are carefully introduced to gentle bitches other than the mother. Adding toys continues. Family and close friends visit the pups. The puppies' faces will be clipped for the first time at some point in this week.
4-5 weeks
: Pups' owners-to-be come to visit and pups are moved out of the whelping box into the pup room adjoining our living room, where they have more space to explore and a designated toilet area filled with newspaper. More toys are introduced as well as various objects to interact with. Pups eat 2 meals of food a day, of all kinds of food -- dry puppy food soaked in water, tinned puppy food, frozen mince puppy food, sardines, minced tripe. Pups are exposed to loud noises, heavy metal music, other dogs, etc.
5-6 weeks
: Pups are eating 3 meals a day and down to one feed from the dam. Weather permitting, pups go outside in the garden as much as possible during daylight hours. Puppies will be washed and clipped on their faces, feet, and around their bottoms at some point in this week.
6-7 weeks
: Pups eat 4 meals a day and the dam is separated from them temporarily to complete weaning (they have teeth and she is generally sick of them by this point). Pups practice eating separately, being in crates, and go for rides in vehicles.
7 weeks
: Temperament assessments to match each puppy to an owner and provide the new owner with a personalised socialisation plan. Puppies receive a DHP vaccination and are microchipped. The mother's milk supply has dried up and she can spend as much time with her pups as she wants to.
8 weeks
: Puppies are ready to go home. Puppies are washed and clipped just before leaving.
What you get with your puppy

Contract and 5-year comprehensive health guarantee
Temperament assessment and personalised socialisation plan for your puppy
Information packs for each parent, including copies of results for health tests, shows, and other achievements
Care information including feeding and training advice
7-generation pedigree
Calculation by Standard Poodle Database showing pup's 15-generation COI and list of influential ancestors
Pup's vaccination record
Pup's microchip document
KC registration paperwork
4 weeks' free insurance
a puppy collar
your puppy's ID collar as a keepsake
a familiar-smelling blanket or toy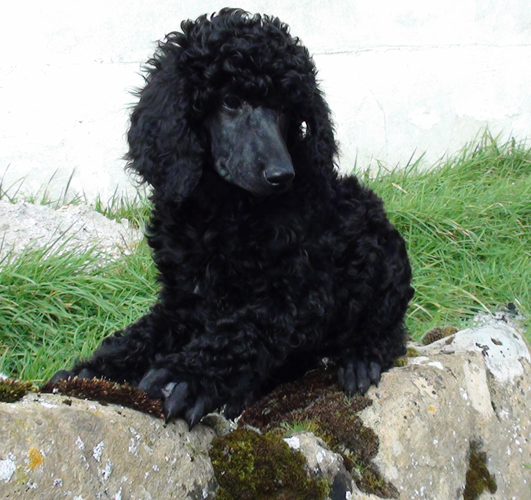 Black poodle puppy
More information about what is included with our sales and contract can be found under Information-->Wywylwynd Guarantee. I extensively health test all my own dogs before breeding from them and guarantee the puppies I breed from congenital and hereditary defects up until their 5th birthday. Puppies are for sale as companions to loving owners. I do not sell dogs for breeding unless it is to a breeder I already know well and trust.
If you are interested in joining my waiting list, you can download this
Puppy Questionnaire
(
please right-click on the link and choose 'save as' and open the document from wherever you saved it using Adobe Acrobat, not in your internet browser, in order to fill it in, otherwise it won't save properly
) that will help us to match you with the right puppy. You can email the form after contacting me using the contact page, or print it and bring it with you when you come to visit.
Older dogs
Very occasionally we may have older dogs available. This might sometimes be because a dog we bred has been returned to us, because for whatever reason its owner is no longer able to care for it.
As with any puppy we sell, all older dogs are guaranteed against hereditary and congenital health conditions until their 5th birthday. In the case of a dog who is already older than 4, they are guaranteed for one year from the date you take your dog home. We will not rehome a returned dog if it has behavioural problems until we have addressed those problems, and any special needs or issues we know about will be disclosed. Older dogs will not leave without having a procedure to prevent them from being used for breeding, and this is included in the price. If this has not already been done, we are happy to let the new owner choose between a hysterectomy or a full spay, or a vasectomy vs. castration, depending on the age and reproductive health of the dog in question.
Please enquire via the Contact page if you are looking for an older dog. We may sometimes know of other breeders with suitable dogs even if we do not have dogs available at the current time.