Hobsey has 8 lovely puppies born 15 August 2018. This is a dual-sired litter and seven pups are from Morse and one from Otto. All the puppies now have nice new owners. If you are interested in joining the waiting list or would like to know anything else about my poodles, please get in touch.

3 black girls, 3 black boys, 1 cream girl from Morse, and 1 brown boy from Otto

Hobsey Morse OR Otto
X
JORGEI ONLY HOBSONS CHOICE BIG CHEYENNE'S CRACK THE CODE for ITZAPROMISE
AJDAR zu FEENHOF von WYWYLWYND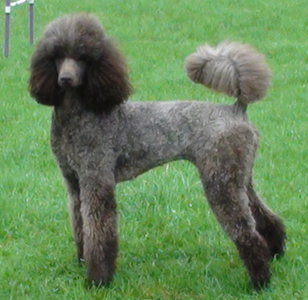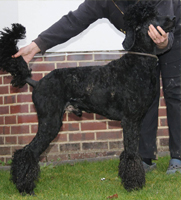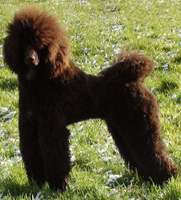 More information about Hobson and Otto including their health test results and achievements can be found on their respective pages on the site. Morse's health test results are as follows: BVA eye examination UNAFFECTED 2018, BVA hip score 5+4=9, UNAFFECTED SA, DNA tested clear NE DM vWD. Please see Wywylwynd Guarantee under Information for details about what is included with pups.

COI 10 (SPD) Hobsey & Morse 0.4% Hobsey & Otto 0.6%
COI 15 (SPD) 6% 5%
Wycliffe 38% 30%
OEA 16% 9%




Click to download SPD calculation in PDF format: Hobsey x Morse or Hobsey x Otto
Morse belongs to a friend who imported him from Germany. Morse is a black dog with an unusual pedigree, great drive and working temperament, and good sound structure that's not always easy to find, and I wished to use him on Hobsey. However, Morse had not been used for some time, and some of the litters he sired when he was last used were small, with one containing four pups and another containing only a single pup, so there were some question marks about his fertility. As there can be problems for a bitch's welfare in having a very small litter, we decided to go ahead and use Morse as planned but also to use Otto at the eleventh hour to 'mop up' any ova that might not have been fertilised. When this results in puppies being born in the litter with different sires, this is known as a dual sired litter and the puppies are DNA tested before registration to determine the correct father for each one. The puppies will of course be tested in this way when they are old enough, but because of a sleight of genetics in this particular case, it was possible to tell as soon as the puppies were born. Hobsey is brown and Otto is also, and Otto's colour genotype is EEbb, therefore he cannot produce cream-type colours and with Hobsey is only able to produce brown. Morse's colour genotype is EeBB, and he can produce cream-type colours but is incapable of producing brown. Therefore, only the brown boy comes from Otto, and the rest of the litter of black pups and a cream girl was sired by Morse.
Hobsey resting, about 4 days to go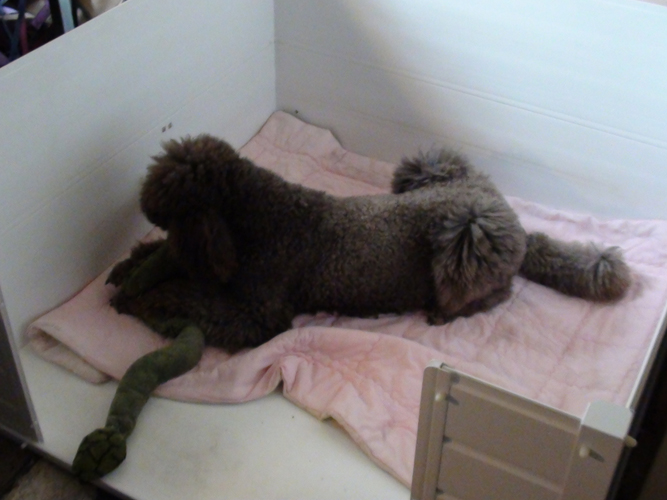 Hobsey will be 8 weeks pregnant tomorrow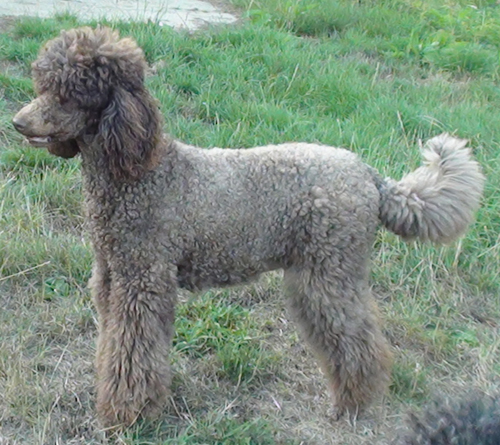 Hobsey is 7 weeks pregnant
Hobsey is chilling in her wettable coat
Hobsey 5 weeks pregnant. N.B. it's not possible to 'count' puppies in any meaningful way. I can find heartbeats on both sides and Hobsey looks sausage-shaped and like she has no waist, so I would hope based on this she will have a normal-size litter.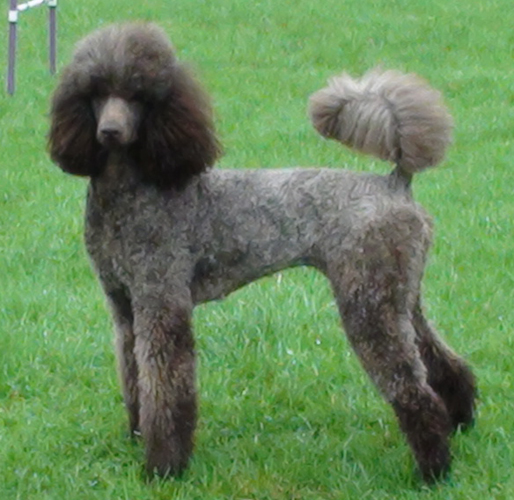 Hobsey had one litter previously, in 2016, and all the pups are well. Hobsey is a lovely cuddly poodle who brings birds to me when I haven't even shot them, and has fantastic motivation and drive which she passes on to her puppies. Her daughter Finzi 'Wywylwynd Biryani' is enjoying success at competitive obedience with her owners -- google her!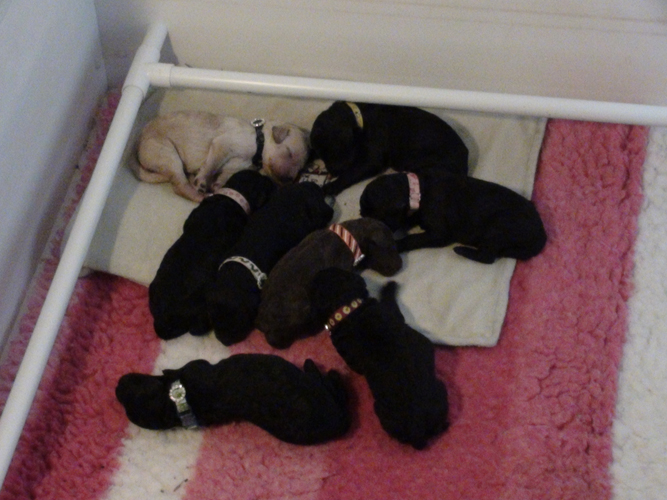 First 48 hours: puppies are adapting to life ex utero. Socialisation starts tomorrow!
Young puppies cannot see or hear and experience the world through touch and smell. Experiencing a new smell each day promotes brain development.
Today's smell is lavender. The knitted blanket was loaned by one of the pups' future owners and gives them a new texture to explore.
The pups are smelling aniseed today. Yesterday was onions -- I ate the onions and breathed on the pups.
Hobsey goes for a walk with the others. Hoping she will stop leaving pink jellies around the house so I can wash that muck off her tail.
Puppies can't hear yet, but I played them some Shostakovich anyway.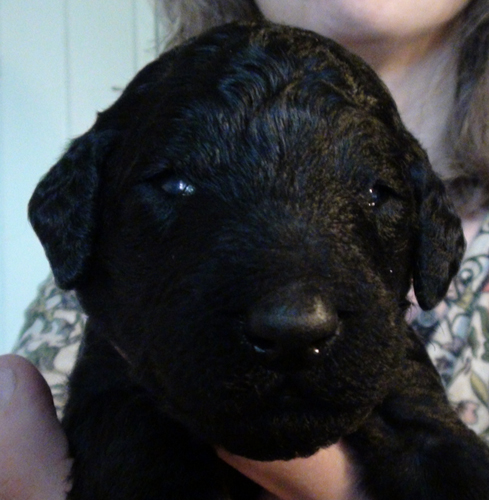 The puppies are 11 days old and starting to open their eyes. This is Tank.
Day
Cammie
Sunny
Rosie
Pink Girl
Bee Boy
Tank
Eric
Chalk
1
14
13
13
13
13
14
13
10
2
14
16
14
14
14
15
14
11
4
18
20
17
17
17
19
16
14
7
30
30
25
25
26
24
26
22
14
36
38
34
32
32
36
36
30
Pup weights in ounces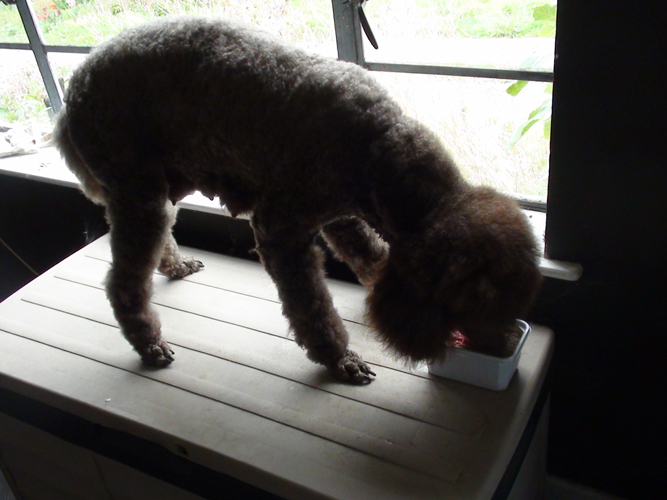 The puppies are now 2 weeks old, and Hobsey is about to enter the most demanding episode of having a litter. She needs to eat enough food to feed the pups and not lose condition, hence the 1 kg tub of Natural Instinct mince for her lunch. She has been washed and dried and looks a bit scruffy, but trimming her will have to wait as it's not fair to keep her away from the pups too long.
Puppies are meeting Indi, who loves pups, even if they aren't hers! This is something beneficial to the pups but has to be done very carefully as not all bitches are as gentle towards other bitches' pups.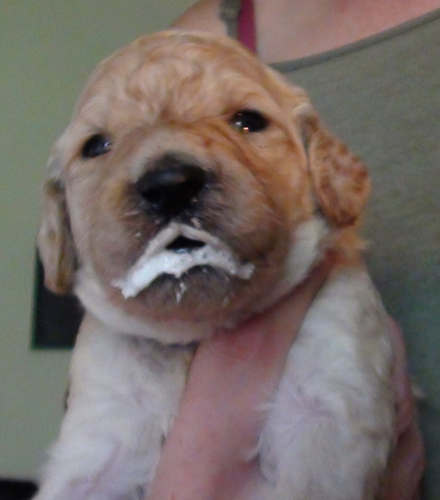 Pups are being wormed. Cammie did not like it!
Pups discover each other. Tank and Eric discover toys, and Sunny discovers screaming.
Pups will be 3 weeks old tomorrow, and apparently they can talk!
Pups' first lunch of sardines. I've tried various things for weaning pups over the years, and found a tin of squashed-up sardines is what they seem to like best. It takes a while for the puppies to learn they have to put their heads over the rim to reach the food, hence the fish fingers and rubbing the puppies' noses in the food.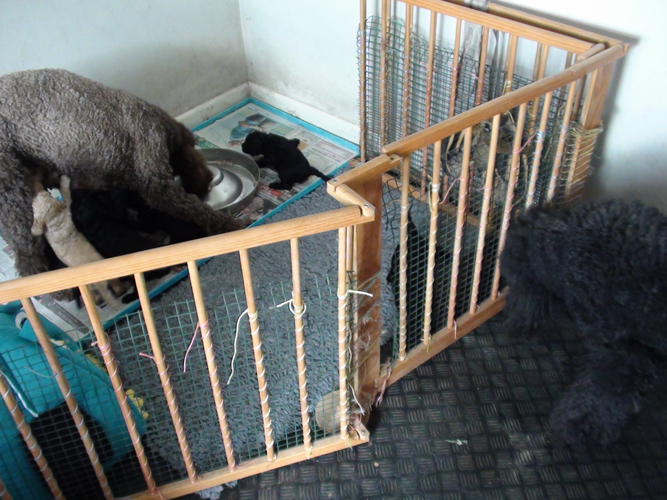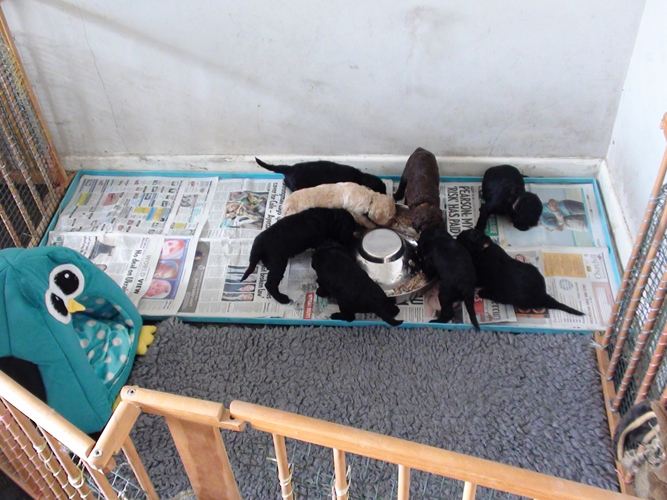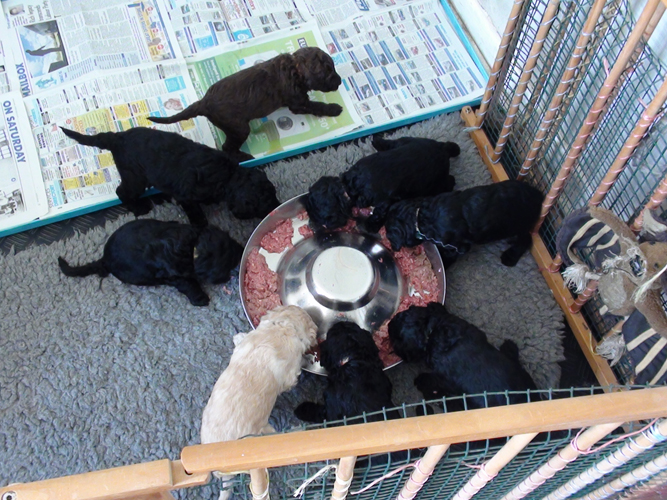 Pups have moved out into the pen and are trying different foods.
4 weeks old.
Outside.
Exposure to a sudden loud noise. Rosie is the only puppy to show a startle reaction.
Pups like to be outdoors. Various toys.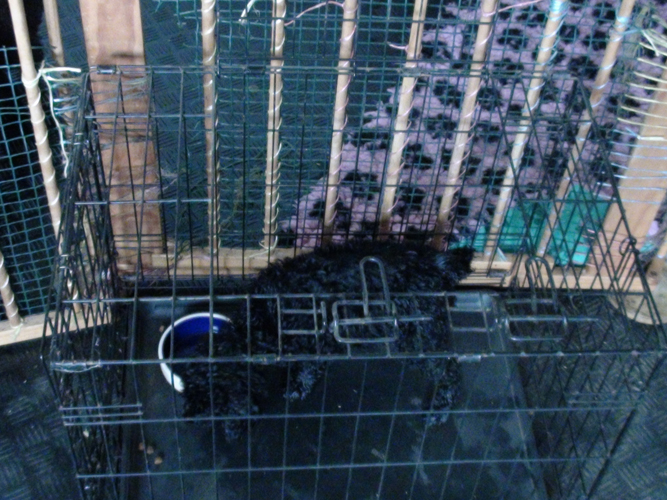 Introduction to eating alone in a crate. The pups are going outside whenever possible, but this morning the weather just was too bad and they had to come back in after being rained on.
Apologies for lack of updates as I have the lurgy again. The first one was bearable but this one is miserable.
Even during wet weather, pups would rather be out than in.
Blog Post: Chalk & Cheese: the aftermath