Hobsey's pups arrived safely on the 5th of November! There are 3 girls and a boy. One girl is black and the other pups are brown. All the pups have gone to their new families, apart from Tiffin who is staying here.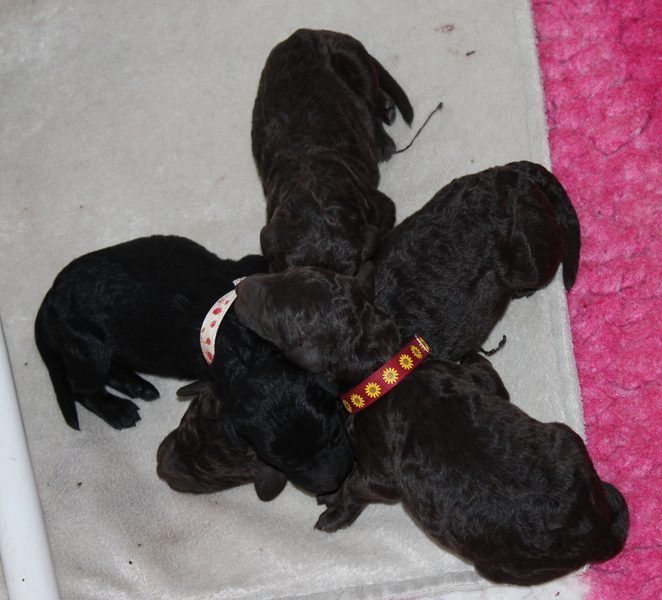 Hobsey Binq
X
JORGEI ONLY HOBSONS CHOICE CURLFINCH QUICHOT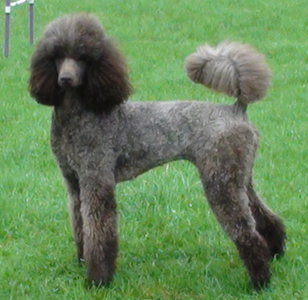 More information about Hobsey including her health test results and achievements can be found on her page on the site. Click on Binq's name above to visit his breeder Carla Platerink-Kroes's website. Binq is a calm and confident raven-black dog who has the following health tests: Hips FCI A (where A is best and E is worst), ECVO clear June 2020 (FCI equivalent to BVA eye exam), and DNA clear vWD, NE, prcd-PRA. Please see Wywylwynd Guarantee under Information for details about what is included with pups.


COI 15 (SPD): 7.9%
Wycliffe: 35%
OEA: 10%

Click to download SPD calculation in PDF format,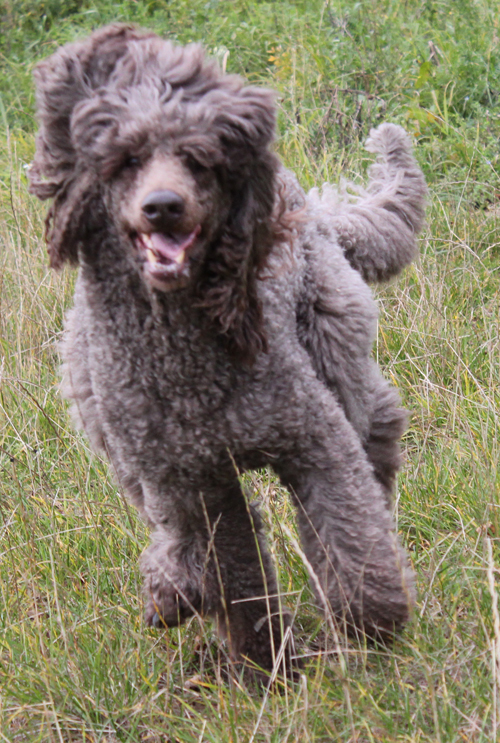 Hobsey is coming up to 6 weeks pregnant.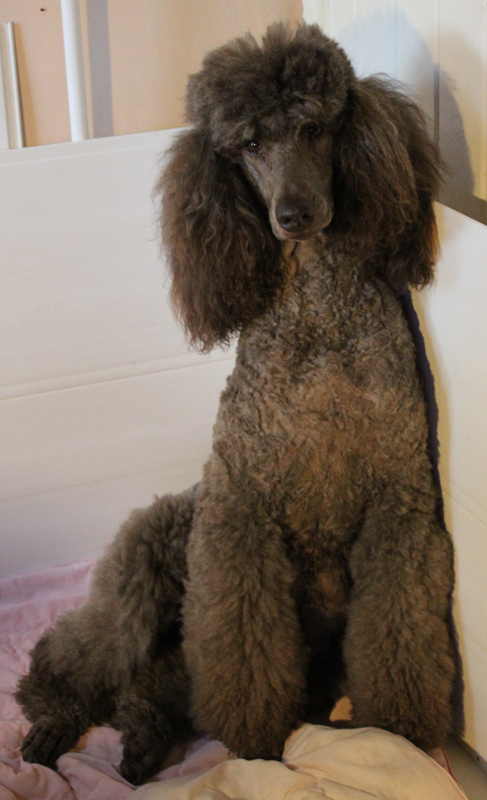 Less than a week to go.


Day
Guy Fawkes
Rosie
Sunny
Mink
1
12
14
13
16
2
13
15
14
17
3
15
17
17
19
4
18
20
19
22
6
22
27
25
27
14
37
48
45
46
Pup weights in ounces
Hobsey loves having pups and she needs to make the most of these as she's not allowed any more
Whelps can't see or hear until they are 2 weeks old, and they experience the world through touch and smell. Each puppy is handled every day and weighed.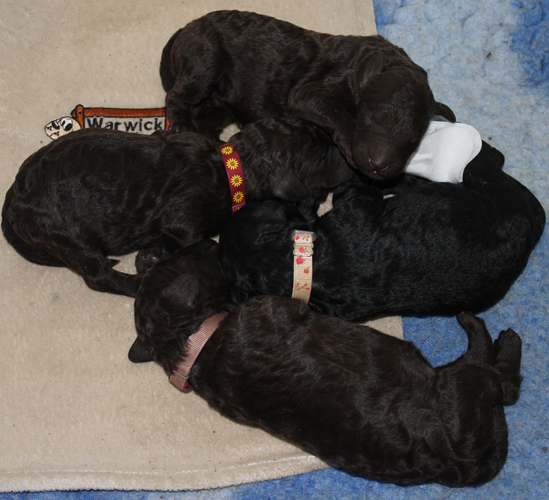 In the first 48 hours of life, the pups are adapting to life in the outside world and they are exposed only to the smells vital to their survival -- of people in the household and their mother. After this time they encounter an unique new smell daily as a socialisation experience. Some of the smells are natural objects that are smelly and others are oils used to train dogs for scentwork. Today's smell is sweet birch, which is also the smell of 'Euthymol' toothpaste.
Hobsey with pups morning of day 5
Pups are 1 week old.
The pups are enormous and the biggest two have started to open their eyes.
Puppies meeting Saffi
The pups are 2 weeks old and are being wormed, and have beslobbered themselves.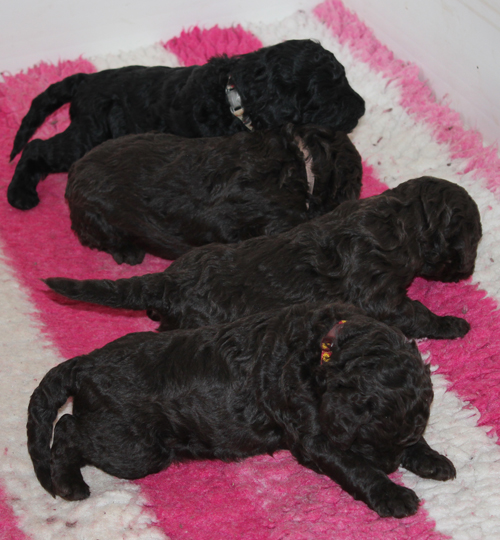 The pups are starting to show more awareness of each other and their environment. The mat had just been changed and one pup was trying to bite it, so the others joined in.
Rosie and Fawn interacting. The noise in the background is the steamer firing up. I try to avoid using cleaning products with artificial smells in them near myself and my animals, so the pups' box was steam cleaned after making the video.
Pups' first meal, sardines.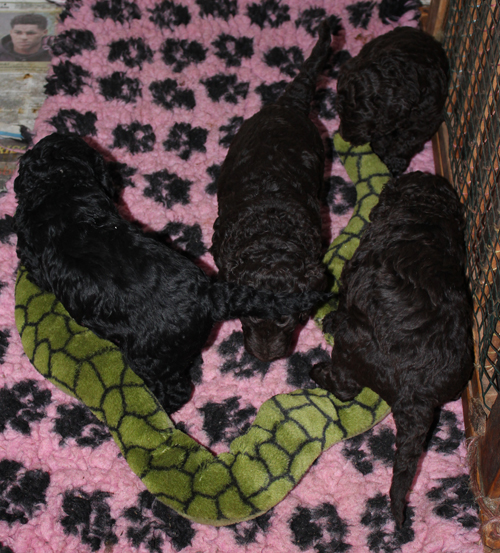 Puppies eating mince.
Pups have had their faces clipped -- a rite of passage for young poodles.
Pups playing with a toy, each other, and my hand.
Hobsey got washed and was blowdried in the room with the pups, which helps to get them used to the noise of the dryer.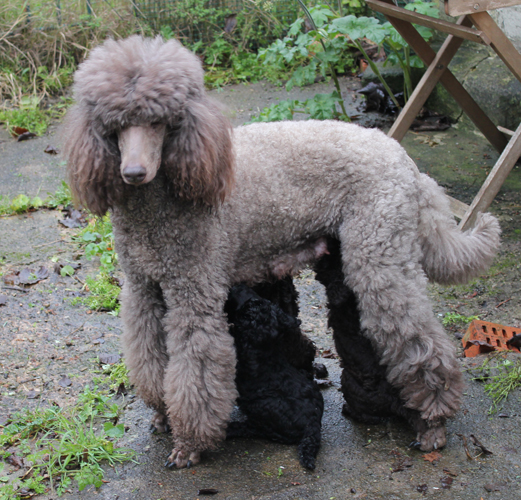 Pups went outside for the first time, not for very long as it was cold and wet.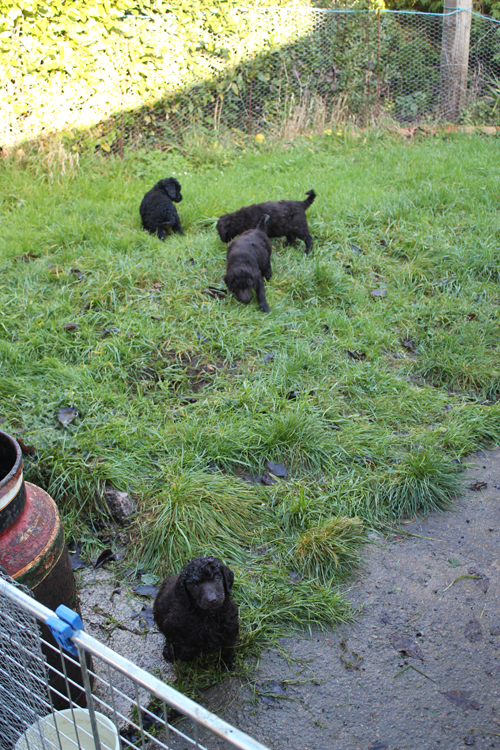 The puppies love to be outside even though it is constantly damp this time of year. The keyboard seems to be having some technical issues as a result of being a cheap Chinese toy not intended to be used outdoors in winter by puppies.
Testing reaction to a sudden loud noise. I had some technical problems as Zooplus seems to have stopped using the packaging materials I normally use for this, and all I could find was some strange conjoined bubblewrap that had to be folded up before standing on it would work!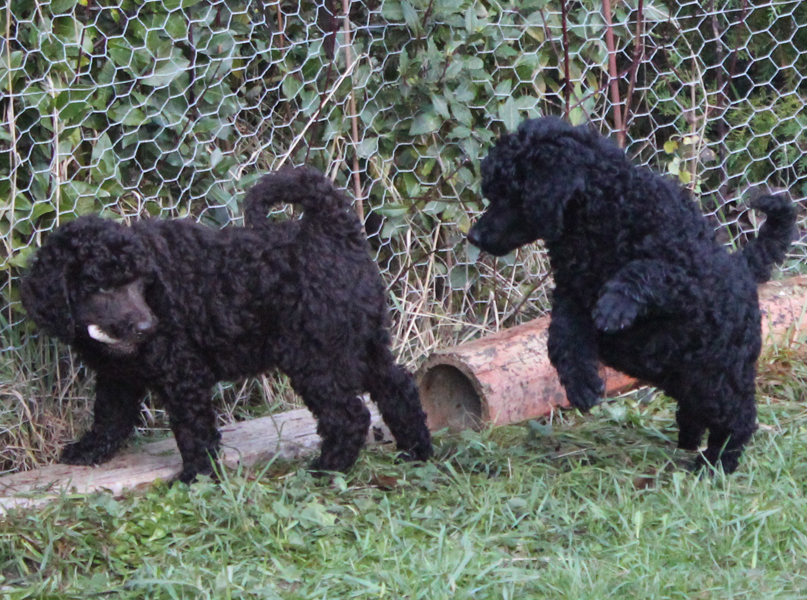 I ate mine. Gimme yours!
We're off to see the vet be sick on towels